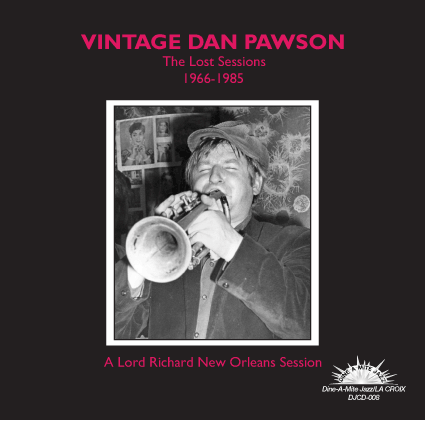 1.   Slow Boat to China
2.   St. Andrew's Hall Boogie
3.   Kid Thomas-style Blues
4.   Big Mamou
5.   New Orleans Hula
6.   In the Upper Garden (Fragment)
7.   Nearer My God to Thee (Fragments)
8.   Lady Be Good
9.   At the Cross
10. Panama
11. Cecilia
12. Solamente Una Vez
13. In the Mood
14. They All Axed for You
15. Shovin' It In (Inches)
Hymn Medley
   16. Near the Cross
   17. Oh Lord Have Mercy
   18. What a Friend We Have in Jesus
19. Alas and Did My Saviour Bleed
20. Mardi Gras Parade
1-15 previously unissued
1-5 Dan Pawson's Artesian Hall Stompers
Dan Pawson – trumpet, Dave Senior – trombone, Phil Wall – clarinet, Brian Helliwell – amplified guitar, banjo, Derek Steele-Jones – string bass, Paul 'Spud' Spedding – drums
Recorded at St. Andrew's Hall, Old Meeting Street, West Bromwich, 6th March 1966.
6-10 Dan Pawson's Tulane Brass Band (in rehearsal)
Dan Pawson (leader) and Ken Pye – trumpets, Stan Stephens and Dave Senior – trombones, Roy Lunn – Eb clarinet, Phil Wall – alto saxophone, Norman Field – tenor saxophone, Terry McGrath – sousaphone, Paul 'Spud' Spedding – snare drum, Mike Dowley – bass drum
Recorded at St. Andrew's Hall, Old Meeting Street, West Bromwich, 13th February 1966.
11-15 Dan Pawson's Artesian Hall Stompers
Dan Pawson – trumpet, vocal on 14 and 15, John 'Legs' Lancaster – trombone, Clinton Sedgley – amplified guitar, Paul 'Spud' Spedding – drums, Norman Field – guest clarinet on 15
Recorded at Neovox Record Co., Harbourne, Birmingham,
1st February 1979.
16-20 The Mardi Gras New Orleans Brass Band
Dan Pawson (leader), Jeremy Crampton, Mike Taylor and Cuff Billett – trumpets, Stan Stephens and Eric Brierley – trombones, Gabe Essien – Eb clarinet, Spock Morgan – alto saxophone, Granville Edwards – tenor saxophone, Paul 'Spud' Spedding – snare drum, Neville Cheetham – bass drum, Les Moore – sousaphone, Bill Cole – mellophone
Recorded in Redmile Village, Vale of Belvoir, Leicestershire,
23rd and 24th February 1985.
The Lost Dan Pawson Sessions by Richard Ekins
Dan Pawson was born in Birmingham, England on 29th August 1936. When he died on 29th November 2002, he had been a New Orleans-style trumpeter and bandleader for over forty years; and a respected writer on New Orleans jazz for some thirty years. At the time of his death, he was a world leading authority on early jazz and the New Orleans jazz revival. Alongside Barry Martyn, Dan Pawson was one of the two European life-long world champions of 'old-style' New Orleans jazz – the tradition that was documented on the New Orleans 'revivalist' records of the 1940s, later experiencing its 'second wind' with the second wave revivalism of the 1960s and beyond.

The first 'Tribute to Dan Pawson' CD was released as the third volume of the Lord Richard New Orleans Sessions in 2006 (504/La Croix CD93) and covered the years 1966-1971 in which Dan laid down the directions that his musical career would follow throughout the rest of his life. The booklet accompanying that first tribute CD traced the beginnings of those directions to Dan's love of the music of the three flagship bands of New Orleans revivalism – those of Bunk Johnson, George Lewis and Kid Thomas Valentine – and showed how Dan went on to absorb the entire old-style tradition in New Orleans music as set forth, principally, in its two major texts: Samuel B. Charters' Jazz New Orleans, 1885-1963 (Oak Publications, 1963) and Tom Stagg and Charlie Crump's New Orleans: The Revival, 1937-1972 (Bashall Eaves, 1973). The second tribute CD, released in 2007 (504/La Croix CD96), continued the story from 1971 up until 1998, the year of Dan's last recording sessions with Chris Blount. This third 'Tribute to Dan Pawson' CD (Dine-A-Mite Jazz/La Croix DJCD-008) focuses on three sessions recorded by Dan between 1966 and 1979, that Dan had hoped would be released but which never were. It also includes a set from a previously issued Mardi Gras New Orleans Brass Band cassette that Dan recorded in 1985.

The mid-1960s saw Dan at the height of his powers but still with no record releases of his own bands – the Artesian Hall Stompers and the Tulane Brass Band. At that time, the second wave of the New Orleans jazz revival was at its high point and there was a steady stream of new recordings of the New Orleans masters for European musicians and bandleaders like Dan to absorb. Little wonder then that the focus of the record producers was not on home grown bands seeking to emulate those masters. However, of all the New Orleans specialist labels recording what was fast turning out to be 'the end of the beginning' of New Orleans jazz in New Orleans, there was one label that launched a quest to release records of New Orleans-style bands from around the world. In1965, 'Big' Bill Bissonnette of Jazz Crusade Records issued an invitation to a number of bandleaders worldwide to submit their recordings to him for possible release on Jazz Crusade. Jazz Crusade was, after all, as its letter head of the time proclaimed: 'dedicated to the promotion of new traditional jazz & the presentation of outstanding performances by established artists.'

As Dan's copy of Bill Bissonnette's letter of invitation put it:
It has been brought to the attention of JAZZ CRUSADE that you have a traditional jazz band. We would like to take this opportunity to introduce you to JAZZ CRUSADE and to mention the system we use to present new groups to the jazz public on JAZZ CRUSADE RECORDS.

Dan needed no introduction to Jazz Crusade. He had been buying its records since its inception, but this communication did inspire him to set up a rehearsal session and to then record sessions for both his Artesian Hall Stompers and his Tulane Brass Band in early 1966. At first, the omens could not have been better. Bissonnette decided to couple an album side of the Tulane Brass Band with none other than the Eureka Brass Band of New Orleans.

In a letter that Dan received around May 1966, Bill Bissonnette writes:
I have just finished editing the tapes of your brass band and I am extremely pleased with the session . . . I would not worry about being compared to the Eureka as the two bands have completely different sounds. Since the recent personnel changes in the Eureka they sound more like the Young Tuxedo than like the old Eureka. It is an exciting driving sound but not as melodic as it used to be. Your band off-sets than (sic) remarkably well and I think the reviews of your band will be surprisingly favorable alongside of the Eureka. Don't get me wrong, the Eureka is still the Eureka and they are the best in the world but your band is excellent also.

Bissonnette then goes on to express his enthusiasm to release a full album by Dan's Artesian Hall Stompers:
I would definitely like you to do a full album by your band . . . I was very impressed at the Artesian gang and particularly the Thomas influence in your playing. As you probably know I am the number one Thomas fan in all the world. I have recorded Tom more than everyone else put together! . . . I will let you know shortly when you may expect release on the Eureka/Tulane album (JC-2009). Thanks again for a good session.

However, Dan was in for a bitter disappointment. In February 1967, he received a letter from Bissonnette:
As I told you when you were here, I turned the tape by your [Tulane] brass band over to George Buck because he bought the Eureka Brass Band tape from me and as I promised you that your band would be on that album with them I gave George that one as well. Unfortunately, this leaves me with no recordings by your group and I would like to have one very much. Would you consider letting me have the tape you did by your regular [Artesian Hall Stompers] jazz band?
. . . I am releasing the album I did by the Gothic Band in a couple of months and I could then start to work on your album if you wish.

Regrettably, however, the proposal came to nothing. We can only speculate as to precisely what happened. Possibly, Dan became disillusioned with dealing with Bissonnette after his disappointment with the Tulane Brass Band session and never responded to Bissonnette's letter. Moreover, following Bissonnette's disposal of the Tulane Brass Band session to George Buck of GHB records, the master tapes went missing and to date I have never been able to locate any copy tapes of the session if, indeed, any such copy tapes were ever made.

However, thanks to the co-operation of Dan's son, Spencer Pawson, who gave me complete and open access to his father's material, I was able to locate one 15 i.p.s. reel of tape in that collection which all the evidence suggests was a copy of a recording of the Artesian Hall Stompers that Dan had hoped to be released on Jazz Crusade. I have not been able to locate any photographs that might have accompanied the recording session. In later years, Dan never spoke of this tape and never wrote of it in his meticulous replies to the various collectors and discographers who wrote to him with requests for details of all his recordings, both issued and unissued. I can only assume that in his disappointment, Dan preferred to forget the entire incident. Significantly, the relevant reel of tape that I located was one of the very few tapes in his entire New Orleans collection that had not been labelled, described and catalogued. We are fortunate, indeed, that it has now become possible for this session to be released. The five tracks on that tape make up the first set of this CD in the order they had been edited for Dan.

Rob Ridley had attended the rehearsal sessions for both the above-mentioned Tulane Brass Band recording session and the Artesian Hall Stompers session. I learned from trombonist Dave Senior that Rob had recorded on his reel-to-reel tape recorder a large part of both rehearsals. Thanks to Rob Ridley and Dave Senior, it is now possible for me to feature the rehearsal session of the Tulane Brass Band, as the second set of this CD, which includes all of Rob's fine material.

As I have written, elsewhere, it always seemed to me that Dan was at his most comfortable and relaxed when he was leading his own band of local buddies around Birmingham, a number of whom, like Paul 'Spud' Spedding and Stan Stephens, remained with Dan, on and off, over a lifetime. There were periods, however, when Stan left the Artesian Hall Stompers for several years. In the mid-1960s, Stan had left the band for a period in order to join Hughie 'the Butcher' Gerrard's band, when Gerrard turned fully professional. Another period of Stan's absence was between 1973 and 1979 when Stan's place on trombone was taken by John 'Legs' Lancaster. Shortly before 'Legs' was to leave the band, Dan arranged a recording session for the 'Not for Sale' Neovox 'Jazzmen' Series. A number of 'Custom Print' cassettes of that session were privately distributed. Again, thanks to Dan's son, Spencer, I was able to locate the master tapes of that session and include a selection of tracks from those tapes as the third set on this CD. Dan is in fine form and the trombone work of John Lancaster gives the quartet a delightfully 'ramshackle' old-style sound. Here, Dan is in the company of a rarity, indeed – a European trombonist more Albert Warner or Harrison Brazlee than Jim Robinson or Louis Nelson.

Throughout Dan's musical career, he had always developed his New Orleans brass band style in parallel with his dance band style. For many, indeed, Dan was at his finest on the street leading his own brass bands. Dan formed his first New Orleans Brass Band – The Tulane Brass Band – in 1961 to play outdoor New Orleans parade music. Initially, the band concentrated on playing at local carnivals. The Tulane was renamed the Jolly Bunch Brass Band in 1976, and expanded its gigs to include promotions, steam rallies, and store openings. The change in name reflected the change in musical style which, in turn, reflected musical developments in New Orleans. The band played a more funky style of street music, mainly in the Birmingham (England) area.

In 1982, Dan joined and became leader and musical director of the Mardi Gras New Orleans Brass Band, specializing in promotional work, store openings and festivals throughout Great Britain and Europe. As trombonist Stan Stephens put it: 'Regarding the brass band, the name was changed according to which store we were opening, or, in the case of "Crown", the sponsoring paint company.' Drummer Paul Spedding adds 'I have different hat band names such as M&B (brewery), JVC, TEXAS, DO IT ALL, PAYLESS, and HALFORDS . . . that's the way the band/s worked. The naming of the Mardi Gras New Orleans Brass Band was Martin Boorman's idea.' Dan's work with the Mardi Gras New Orleans Brass Band is featured on the final tracks of this CD, in a set recorded in 1985, previously issued only on the cassette 'Mardi Gras Parade' (All That Jazz - AJC 001). These tracks are issued from the cassette by arrangement with Martin Boorman who produced them. The original reel-to-reel master tapes of the entire session, including a number of unissued tracks, perished in a fire at Boorman's home some two decades ago.
New Orleans in the 1960s by Dan Pawson
On 22nd October 1965, Dan Pawson presented a record recital at the Birmingham Jazz Record Society. Dan was no stranger to the Society. He had, for instance, attended a recital on Lonnie Johnson in 1962. In 1963, he wrote in his diary of his attendance at a Louis Armstrong record recital, making the comment 'Very good indeed.' The Society was formed in 1950 and was the only one of its kind in the city. Its aim was to present a varied programme of informative and entertaining recitals on all aspects of jazz. The advertisement for the event stated: 'Last year, Dan Pawson, a dedicated New Orleans enthusiast achieved his ambition to visit the birthplace of jazz . . . he will recall some of the highlights of his stay in the Crescent City and introduce recordings of contemporary New Orleans music.' What follows reproduces his unpublished notes for the recital. Whilst we may suppose that Dan peppered his presentation with amusing anecdotes and his particular brand of wry humour, these notes do provide an excellent document of Dan's standpoint on New Orleans jazz at the time of the recording of the first two sessions on this CD. It should be noted that Dan's first visit to New Orleans was for three weeks in Autumn, 1964.
The following Dan Pawson notes are published verbatim and unedited.
First of all, ladies and gentlemen, I would like to make a few comments and sketch a few background details of the title of this recital- 'New Orleans in the Sixties'. The very mention of New Orleans presents a different series of images to each different type of jazz fan.
To some – the turn of the century, Buddy Bolden, Jelly Roll Morton, the wild days of Storyville, Lulu White, King Oliver, Louis Armstrong, honky-tonks, bars, brothels and goodtime girls. Sounds marvellous doesn't it?
To others – the so-called revival of the forties – Bill Russell, American Music records, Bunk's false teeth, the Climax session.
To yet others – primitive, unsophisticated hell characterized by rickety old men, out-of-tune clarinets, twanging banjos, technical incompetence and a limited knowledge of basic harmony and chord progression. To the out-and-out modernist, New Orleans does not exist, and never has done.
Ladies and gentlemen, if you have any preconceived notions or prejudices about New Orleans I would ask you to swallow them immediately. A swig of beer helps! Also I would ask you to forget, and this may seem a gross impertinence to the aims of the society, I would ask you to forget the world of records, discographical details, matrix numbers etc etc. and face the music itself.
Before the recital gets under way I would like to recapitulate briefly what has happened since the forties. Contrary to all the history books there was no such thing as a New Orleans revival. The music had been there all the time just as it still is. New Orleans jazz is purely a functional music and the absence of records did not in any way mean there was an absence of music in the city. The so-called 'revival' was in fact a revival of interest in the music and the musicians who had stayed behind when all the better-known figures had strayed North to Chicago. The revival in interest produced a fanatical worship of Bunk Johnson which after his death was channeled into a hard core of high priest purists singing the praises of the George Lewis band. The Lewis band left New Orleans for numerous tours of the U.S.A. and throughout the early fifties received great acclaim throughout the world. By the late fifties, however, the band had hit hard times and, with the exception of the pianist Alton Purnell who settled in Los Angeles, they returned home to New Orleans and faded from the limelight. Introducing a concert in 1954 (recorded on BLUE NOTE LP1208), George Lewis had predicted: 'After a year or so you may not hear this music anymore.' At the close of the fifties it appeared to the general jazz public that George's prophecy has indeed come true. It appeared that New Orleans jazz was in its death throes.
Meanwhile, in the city itself, there were still numerous musicians who continued to play in the parade bands and the dance halls and some of these had been recorded during the late fifties by a handful of enthusiasts. Some of these recordings appeared in Sam Charters excellent 5 volume album 'Music of New Orleans' on the Folkways label.
Even in New Orleans, however, times were difficult as many of the dance halls were switching to rock & roll, country & western and even juke boxes to cater for the tastes of the younger negro generations.
Kind of music still played in the dance halls of 1959.
Pete Bocage – Barnes. - When my sugar walks down the street
Kid Thomas - Si bonnet
Billie and De De - Billies Gumbo Blues
N.O. Music is functional music and irrespective of the decline in the dance hall tradition church music and parade music were and still are part of everyday life.
Annie Pavageau - When the river cease to flow
Eureka - Bourbon St. Parade
Blues & Street Entertainers
Snooks Eaglin - Remember me
Creole George - Drawers Trouble
Billie & De De - Careless Love
Many elements of the original classic jazz still prevalent. In 1960 Love-Jiles Ragtime Band formed
Love-Jiles - Hilarity Rag
Commercial – Bourbon Street Southland – Sharkey, Pete Fountain, Al Hirt etc.
Coloured – Barbarin, Celestin.
Papa French It's you I love
In 1960 and 1961 a strange thing happened. History repeated itself. Just as twenty years previously Heywood Broun had arrived in New Orleans and recorded the Kid Rena session shortly followed by Dave Stewart, Eugene Williams and Bill Russell who concentrated mainly on Bunk, just as twenty years previously a horde of enthusiasts for the real music of New Orleans seemed to descend on the city, all intent on capturing the music on record before it was too late. The scene was as I have said before in its death throes. But this was quickly halted and a second great revival of interest occurred.
People such as Grayson Mills, Stuart Macmillan, Dick Allen, Allan and Sandra Jaffe and England's Barry Martyn were all prominent figures in this revival. Recordings were made and most important of all the kitty halls were born – Icon Hall, Dixieland Hall, Preservation Hall.
The existence of the kitty halls and their policy of presenting jazz every night of the week provided musicians with more work, and more incentive. Many of the men playing in the twenties were rediscovered, some like Chinee Foster not having played for as long as 40 years. And other musicians, unheard of and unheralded, appeared and have since become formidable figures on the scene, i.e. John Handy.
The decline apparent in the late fifties was halted and the music swung forth with renewed and refreshed vigour.
Kid Howard - See See Rider
Since the advent of the kitty halls and the emergence of many more musicians and bands, there has been a great deal of recording activity in the city. The recordings fall into four different categories.
1. Dixieland Commercial – Southland, Imperial, Nobility
2. Kitty Halls Atlantic, Icon, Riverside (Liv. Legs.)
3. Recreations
& Pick up bands San Jacinto, Pearl, GHB, and even Icon
4. Documentary MONO. 77.
1. Dixieland Mention Punch & Howard on Southland. Uncle Tom showmanship Solos in certain orders. Very broad Tourist
2. Kitty Halls Instrumentation limited - More Freedom of tunes
Billie and De De - Love Song of Nile
Handy - Panama
Thomas - Big Lunch Blues
Louis Cottrell - Rose Room
Eureka - Whoopin Blues
Kid Howard - Careless Love
Punch - Gates Blues
Thomas/Lewis - Bugle Boy March
3. Recreations - Musicians told what to play, who to play with.
Kid Howard - Bogalousa Strut
Percy Humphrey - Old Spinning Wheel
'Sam Morgan' - Mobile Stomp
4. Barry Martyn. MONO
Kid Sheik - Ice Cream
Gibson BB - Little Rascal
Bocage - Avalon/Stumbling
Mighty Four - Victory Walk
S. Handy - Spanish Town
Peter Bocage - Indian Love Call
J.H. Macneil - Marie
- Mama Inez
Barnes Bocage - When you grow too old to dream
Details of almost all of the recordings mentioned may be found in Tom Stagg and Charlie Crump, New Orleans, The Revival: A Tape and Discography of Negro Traditional Jazz Recorded in New Orleans or by New Orleans Bands 1937 - 1972, Dublin: Bashall Eaves, 1973.