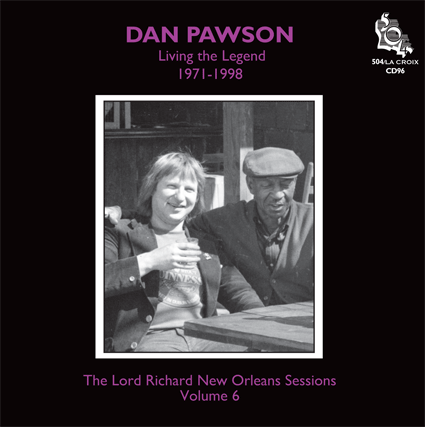 1.   Amor*
2.   Second Line*
3.   Blues for La Croix*
4.   Eh La Bas
5.   Rose Room
6.   Dan's Funky Blues
7.   Four or Five Times
8.   Enjoy Yourself
9.   Indiana*
10. Solamente Una Vez
11. Yearning
12. Roberta
13. Lead Me Saviour
14. Pass Me Not, Oh Gentle Saviour*
15. Lou-Easy-An-I-A
* previously unissued
1-3 Dan Pawson's Artesian Hall Stompers
Dan Pawson – trumpet, claves, tambourine, Stan Stephens – trombone, Bob Barton – piano, Paul 'Spud' Spedding – drums
Recorded at the The Birmingham Arms, Birmingham, 28th November 1971.
4-6 Andrew Hall's Band
Dan Pawson – trumpet, claves, vocal, Dick Cook – clarinet, alto saxophone, Ernest Poree – alto saxophone, vocal, Richard Simmons – piano, Melvin Yancy – string bass, Andrew Hall – drums
Recorded at Dick Cook's house, Southall, Middlesex, 22nd February 1977.
7-9 Dan Pawson – Teddy Johnson Funky Five
Dan Pawson – trumpet, claves, vocal, Teddy Johnson – alto saxophone, Fred Lands – piano, Melvin Yancy – string bass, Andrew Hall – drums
Recorded at Ultrasonic Studio, New Orleans, 22nd February 1978.
10-12 Dan Pawson's Buddies
Dan Pawson – trumpet, Stan Stephens – trombone, Zoltan Sagi – clarinet, alto saxophone, John Richardson – piano, Brian Lawrence – string bass, Paul 'Spud' Spedding – drums
Recorded at The Black Bottom Club, Northampton, 15th March 1987.
13-15 Chris Blount New Orleans Jazz Band
Dan Pawson – trumpet, vocal, Ron Radford – trombone, Chris Blount – clarinet, Barry Grummett – piano, Tony Peatman – banjo, Harry Slater – string bass, Dion Cochrane – drums
Recorded live at Santa Maria Kyrka, Helsingborg, Sweden, 30th July 1998
Dan Pawson was born in Birmingham, England on 29th August 1936. When he died on 29th November 2002 he had been a New Orleans-style trumpeter and bandleader for over forty years and a respected writer on New Orleans jazz for some thirty years. At the time of his death, he was a world leading authority on early jazz and the New Orleans jazz revival. Together with Barry Martyn, Dan Pawson was one of the two European life-long world champions of 'old-style' New Orleans jazz – the tradition that was documented on the New Orleans 'revivalist' records of the 1940s, later experiencing its second wind with the second wave revivalism of the 1960s and beyond.

I released the first 'Tribute to Dan Pawson' CD in 2006 – a co-production with Mike Dine (504/La Croix CD93). This first tribute CD covered the years 1966-1971, during which Dan laid down the directions that his musical career would follow throughout the rest of his life. The booklet accompanying the CD traced the beginnings of those directions in Dan's love of the music of the three flagship bands of New Orleans revivalism – the bands of Bunk Johnson, George Lewis and Kid Thomas Valentine. It detailed how Dan went on to absorb the entire old-style tradition of New Orleans music, as set forth in the tradition's two major Bibles – Samuel B. Charters' Jazz New Orleans, 1885-1963 and Tom Stagg and Charlie Crump's New Orleans: The Revival, 1937-1972.

The final selection on the first tribute CD featured tracks by Dan Pawson that I had recorded for La Croix records at the end of 1971 and had first released in early 1972 on La Croix LP7. This second tribute CD starts with three previously unissued tracks from the same session – the Artesian Hall Stompers, with Dan joined by trombonist Stan Stephens, drummer Paul 'Spud' Spedding, and pianist Bob Barton, recorded at the Birmingham Arms, Birmingham.

These years of 1971 and 1972 marked the end of the first phase of Dan's musical career. They also marked the end of the first phase of my serious involvement in the music. By the early 1970s, it was becoming evident that the boom years of second wave revivalism had come to an end. All of the most significant series of new recordings in New Orleans had been made. The number of the still remaining leading old-style musicians in New Orleans had dwindled to a handful. In Britain, and elsewhere, audiences at New Orleans jazz clubs were in decline. Ken Colyer had temporarily retired through ill health in 1971. Barry Martyn was unable to make a living playing New Orleans-style music in the UK and, in 1972, had moved to the USA permanently. Significantly, it was also in 1972 that Clive Wilson, the English trumpet player, wrote to me from New Orleans: 'When are you coming back to New Orleans? There's no music like there used to be, but it's still New Orleans.'

Fittingly, Dan Pawson turned his attention to this gloomy situation in an article that heralded his career as a writer on New Orleans jazz, entitled 'The Future of New Orleans Music in Great Britain', published in Footnote in October 1971.

In this 1971 article, Dan concludes that 'real New Orleans music has little or no future [in Britain] but that our own home-grown hybrid stands a very good chance of surviving if our musicians have the intelligence and maturity to realise what the music is all about and if they perhaps think along the lines' that he suggests. These suggested lines consisted, principally, of stopping trying to prove authenticity to the diminishing band of jazz enthusiasts – indeed, abandoning use of the term 'jazz'; emphasising the essentially 'functional' nature of New Orleans music expressing, as it does, every mood, and embracing every social occasion; studying and absorbing the wider aspects of New Orleans music to enlarge upon the scope of musical activities; becoming an accomplished musician, thinking professionally, and regarding the professional musician as somebody paid to please an audience; adapting repertoire to suit the occasion; and moving with the times and incorporating into the New Orleans repertoire tunes in the top twenty that were adaptable to New Orleans-style music.

From around 1972 to 1976, Dan's musical career was interrupted, to an extent, by his university studies in Birmingham. However, he did use this period to put into practice the principles he had outlined in his 1971 Footnote article. He concentrated on evening pub sessions, social clubs, straight dance-hall jobs, and private function bookings of every description in his local area. As he was to say later: 'We were just a band playing for various functions where, had we mentioned the word "jazz", we would not have been hired.' I had moved to London in 1971 and was, therefore, unable to listen to Dan's band on a regular basis. Robert Greenwood, who followed Dan's band in the 1970s, takes up the story:

'I treasure memories of hearing Dan and his band, the Artesian Hall Stompers, at venues such as The Barrel in Summer Lane, Birmingham, playing to an audience composed of people meeting friends for a drink after work and enjoying some good music while they were about it. The band played pop tunes of the 30s and 40s, rock and roll and country and western tunes, as well as jazz standards – all in the New Orleans dance hall style. Nobody ever referred to "jazz" and the Birmingham jazz establishment stayed away in their droves, yet the atmosphere was probably very close to that found at such places as Luthjen's, Munster's Bar and Speck's Moulin Rouge, all of which were well away from the tourist traps in New Orleans.'

By 1977, Dan was in a position to branch out in different directions and further develop his musical career. Andrew Hall, the British pianist and drummer, had been resident in New Orleans since the early 1970s. When Hall toured Europe in 1977 with New Orleans musicians Ernest Poree and Melvyn Yancy, he took the opportunity to record Poree and Yancy with his European Band in Southall, England. The album featured Dan Pawson on trumpet, together with pianist, Richard Simmons, and the British clarinet player and bandleader, Dick Cook, who had spent a number of years in New Orleans from the late 1960s, onwards. The album was released in 1978 on Rampart Records under the title 'Andrew Hall On Tour in Europe'. The second set on this CD features three tracks from Hall's session.

Clarinettist and saxophonist Roger Bird makes the essential points:

'Talking of style, I was amazed to hear someone comment that Ernest Poree was not a "real New Orleans player like George Lewis". A strange thing to say of a man who spent no more than thirteen days of his 69 years out of the city before making his first European tour! The New Orleans feel is unmistakable with bass player Melvin Yancy, who incidentally was a long time friend of Bunk Johnson's. Poree and Yancy worked the magic at the recording session, turning it into a party and bringing out the best in Andrew, Richard Simmons, Dick Cook and Dan Pawson . . . This is good swinging New Orleans music played here just as it is played on home ground – whether it be the Maple Leaf Bar in New Orleans, a night club in London, or a bar in the back streets of Amsterdam.' Listen out for Dan's line 'She don't know what's on my mind' in his vocal on 'Dan's Funky Blues'. This will strike a particularly enjoyable chord for Pawson enthusiasts.

For the next three years, from 1978-1981, Dan made three further visits to New Orleans to continue his studies of the music and gain more experience. On his 1978 trip, he took the initiative in setting up his first recording session in New Orleans. This session featured the Dan Pawson – Teddy Johnson Funky Five. On his return from New Orleans, Dan approached me with a view to releasing this session on La Croix. However, by that time I had moved on to other things and it was first released in 1979 on NoLa as LP(S)18. The record was aptly entitled 'N.O. Tea Party'. As Dan described it: 'And how about some wine to oil the parts? This will be no tea party!' The third set on this CD features three tracks from this session, including a previously unissued take of 'Indiana', kindly located for me by Dan's son, Spencer Pawson.

Alto saxophonist, Teddy Johnson was born on 20th May 1911 at Bertrandville, Louisiana. In his early teens he played drums and banjo, not taking up sax until 1928. He soon became competent on this instrument and joined a band that went to Port Arthur, Texas. There he met Bunk Johnson who was working with the Banner Band at the time. He did many jobs with Bunk until 1932 when he returned to Marrero and joined the Kid Thomas band at Fireman's Hall. Over the years, Johnson gigged around with many bands and musicians. From 1943-1963, he played at the Beachwater Club in Biloxi with such musicians as Herb Morand, Frog Joseph, Chester Zardis, Fred Lands, Thomas Jefferson, and Walter Lewis. Since then, he has worked extensively with Thomas Jefferson, with various brass bands, and with Tuts Washington. At the time of the recording included on this CD, Johnson's first ever recording, he was often featured at the Maple Leaf Bar.

Pianist, Fred Lands was born on 16th February 1914 in New Orleans. He played drums in a school band which had Fred H-A Minor on banjo. He switched to piano during the 1930s and was hired by Paul Barbarin. Helen Humes was singing with the band at the time. In 1947 he joined Dave Bartholomew's band and was on the band's first recording session – 'Stardust' on the DeLuxe label. In the early 1950s he worked on Bourbon St. with George Williams but, soon afterwards, quit music for some twenty years. In 1977 he began playing again and joined the Andrew Hall/Ernest Poree Quartet. His return to music was long overdue.

Bassist Melvin Yancy was born on 9th June 1917 in New Orleans. Originally a guitarist, he played with Little Bibb's Big Band for several years. Later, he studied bass with Robert Rhow, the principal bass player with the New Orleans Symphony. He played at the Caledonia Club with Kid Howard and with the George Lewis Band at the El Morocco. He lived for a time in New Iberia, where he became a close friend of the legendary Bunk Johnson. He worked with Dave Bartholomew's Band for many years before joining the Society Jazz Band. Yancy has made several recordings.

Drummer, Andrew Hall was born on 5th October 1944 in Derbyshire, England. His father being a drummer, and his mother a dancer, he took up music at an early age. By the time he was thirteen he had his own band on BBC Radio. Before settling in New Orleans in 1970, he played with many English bands and made frequent European tours. And since being in New Orleans, Andrew has worked with many of the city's finest musicians including Jim Robinson, Kid Thomas, Albert Burbank, Alvin Alcorn, and Father Al Lewis. He has recorded with many local musicians, including Louis Cottrell, played in several movies, and led the very successful Society Jazz Band. Following Hurricane Katrina, in 2005, Hall returned to England.

Dan had formed his first New Orleans-style parade band – the Tulane Brass Band – in 1961. In 1976, he had replaced and updated the Tulane with the Jolly Bunch Brass Band that played a more funky style of street music, mainly in Birmingham, England. Following this line of development, Dan joined the Crown Brass Band in 1982, and became leader and musical director in 1984 when the band was renamed the Mardi Gras Brass Band. The band specialised in promotion work, store openings and festivals throughout Britain and Europe.

Dan became a full-time professional musician in 1986, working in the Oriole Brass Band and continuing to lead his own bands. In early 1986, Dan recorded with the Rudy Balliu's Society Serenaders for a release on Eustachius (EJ 007). A year later, in 1987, Ken Pitchford recorded Dan with his own band – 'Dan Pawson's Buddies' – for release on Ken's MEK label (MEK SLP 004). The story has it that Dan answered the phone one day with a 'Ken' on the line wanting to record Dan. Dan thought it was Ken Colyer and couldn't understand why Colyer would want to record him! Ken Pitchford, as it turned out, gave Dan a free hand as regards personnel and numbers. As Dan tells it:

'After Ken put his proposition to me I decided to use guys on the recording I'd worked with in Birmingham and the Midlands over the years, musicians I feel happy playing with, musicians who have never received the wider recognition they deserve and musicians who I can also call my buddies.'

In his liner notes for the original LP, Dan observes that by the late 1980s the kind of places his band used to play for were in terminal decline. Dan always had a functional approach to his music and since the 1970s had played mainly outside the confines of jazz clubs. His own band concentrated on playing for regular pub patrons where entertaining, fun and singalongs take a priority over reproducing exact renderings of the latest jazz record releases.

However, by the time of the 'Dan Pawson Buddies' session, he notes how the times had changed. The kind of places his band used to perform in had switched to juke-boxes and discos to cater for younger clientele. The sort of people his band used to play for have been rehoused away from the city or had aged and tended not to go out much any more due to the 1980s recession and rising crime statistics.

For Dan, these are the very factors that had affected New Orleans music in the 1950s. Jazz clubs still existed in the UK in the 1980s, of course, but were generally located in more affluent areas. The patrons were largely composed of people whose families had grown up thus allowing them the freedom to enjoy the type of music that first attracted them some twenty-five years previously. Consequently, they tended to demand familiar jazz standards as performed by orthodox jazz bands. At the time of this 1987 recording Dan was conscious that the type of material his band had been doing for years might, therefore, fade away to survive only in memory or on a few tapes in the private collections of a handful of loyal fans. Dan was concerned, therefore, to document on this 'Buddies' session the sort of material he had been playing for years to non-jazz audiences. Appropriately, therefore, the fourth set on this CD continues in the vein of the earlier sets with the numbers 'Solamente Una Vez', 'Yearning', and 'Roberta'.

Despite Dan's justified pessimism concerning his local scene, the situation in other parts of Europe was very different. In 1986, for instance, Dan led his own 'All Star' band for work in Switzerland which included Pete Dyer, Ray Smith, Dave Evans, and Zoltan Sagi. He returned the following year in a new line-up which included Annie Hawkins, Zoltan Sagi, John Coles, John Richardson, Colin Richardson, and Paul Munnery. This 1987 line-up was featured as Dan Pawson's New Orleans Jazz Band on a compilation LP album of the 13th Festa New Orleans Music, Ascona (Festa New Orleans Music FNOML-937). In 1988, Dan toured Switzerland and Germany with the great New Orleans trombonist Louis Nelson and his New Orleans All-Stars which included Chester Zardis, Danny Barker, Pud Brown, Butch Thompson and drummer Stanley Stephens. Louis Nelson, through illness, wasn't able to tour, but he did play with the band at the Ascona Festival of 1988.

Following this 1988 tour, Dan returned to New Orleans in 1989. That year, he recorded with the Eagle Brass Band for the American GHB label in New Orleans (GHB BCD-170) and worked in New Orleans with Pud Brown's Band at the prestigious Heritage Festival. He also played several hotel jobs, including the Fairmont and Hilton. During October and November 1990, Dan worked a nightly residency at the Hyatt Regency, Belgrade, with the Original Camelia Jazz Band from New Orleans. Throughout the 1990s, Dan continued to lead his own dance and brass bands and to freelance throughout Europe.

As the 1990s progressed, however, Dan found it increasingly difficult to secure regular work for his own bands and in June 1997 he joined the Chris Blount New Orleans Jazz Band. Dan and Chris knew each other well and they had occasionally played with each other over many years, indeed, they had recorded together with The Delta Four in 1994 (P.E.K. Sound PKC-030). Both men had enormous respect for each other's sense of purpose, musical direction and integrity, as well as their respective talents. Chris Blount's band had a busy programme of bookings that included many jazz festivals and European tours, particularly in Denmark and Sweden. The final set on this CD features Dan at his best with the Chris Blount Band performing, as they so often did, in Church concerts, continuing the tradition in New Orleans jazz laid down by the famous George Lewis 1954 'Jazz at Vespers' session.

Banjoist Tony Peatman takes up the story of this particular recording, the last recording of the Chris Blount New Orleans Jazz Band:

'As we sat in the magnificent Santa Maria Kyrka at Helsingborg playing the wonderful music you will hear on this CD no-one had any idea that in five short months the end of an era would come with the sad and untimely death of Chris Blount. In the last few years Sweden had become almost a second home for the Band and it is fitting that this concert was recorded in one of their wonderful churches. Church concerts have become an important part of our Swedish tours and we all have a feeling of pride to have been a part of so many of them. Little did we realise that this was to be the last one Chris would record so it has a special meaning – the church concerts were always special. I think we are all agreed that there are some high and poignant moments in the music which is a mixture of sacred and secular tunes.'

Peatman continues: 'The line-up here has been together for the last year and a half. Dan
Pawson's crackling style has given a lift and a sparkle, the result of years of emulating all the great New Orleans trumpet players with snatches of them all to be found in his playing. Ron Radford's economic trombone playing is based on Jim Robinson (another stalwart of the Lewis band) providing an ideal support in the lower tones. The rhythm section swings along as a unit. Barry Grummett's rocking piano can be all things – hard driving or extremely tender and delicate as the music demands. The basic elements of New Orleans drumming are the press rolls and the drive of the bass drum. Dion Cochrane excels at it all . . . Harry Slater's solid string bass has been an ever present in Chris's bands for over 35 years, and . . . I hope that my Vega tenor banjo has made a valuable contribution to the overall sound of the Band . . . [finally] Chris's playing had many Lewis phrases in it but, over the years, he had developed his own style and attack based on a sweet tone and a flowing melody line.'

On this session, then, Dan returns to a format reminiscent of his own earliest years as a bandleader when he formed the Artesian Hall Stompers, back in early 1960, with Stan Stephens on trombone and Roy Lunn as the powerful, driving, George Lewis-inspired clarinettist – the format, that is, of the touring George Lewis Band of 1959. This 1959 band was Dan's main inspiration at the time – with the classic Lewis band frontline of Jim Robinson, Kid Howard and George Lewis over the driving rhythm section of Joe Robichaux, Lawrence Marrero, Joe Watkins, and Alcide 'Slow Drag' Pavageau. This final set on this CD provides, therefore, a particularly fitting close to this second Dan Pawson Tribute CD – returning, as it does, to the very earliest directions Dan set himself in his earliest days as a bandleader.

For another couple of years, until December 2000, Dan remained with The Blount Band, as the band was renamed after Chris Blount's untimely death in December 1998. However, Dan never again achieved the musical heights of this session on any of the many subsequent recordings that I am aware of. His lip gave him increasing trouble and he was in particularly poor health throughout 2000. The Grim Reaper was beckoning. Within two years of leaving The Blount Band in December 2000, Dan, himself, would be dead.

In an obituary Dan wrote for his friend and fellow musician, Tommy Burton, he described Tommy as 'not so much of a jazzer, more of a mate who provided a load of laughs down the pub and produced some real entertaining music. As such he was nearer the meaning of New Orleans jazz than any of the recognised European exponents. He lived the life he expressed in music and he communicated directly to people who were non-jazzers, just as the New Orleans musicians did.' As jazz commentator, Robert Greenwood has pointed out, Dan might as well have been writing about himself. Appropriately, I leave the penultimate words to Greenwood: 'As well as being one of the leading authorities on New Orleans jazz anywhere in the world, Dan was the finest and most authentic purveyor of New Orleans music the UK has ever known.'
Dan, God rest your soul.

The Dan Pawson Project: Acknowledgments
This CD is part of the Dan Pawson Project which, as of early 2009, included both an email network (lacroixrecords@googlemail.com) and the 'Dan Pawson and his Artesian Hall Stompers' thread on the Birmingham History Forum (forum.birminghamhistory.co.uk).

This CD is the second CD of a projected series of three CDs and a DVD. All the participants and contributors to both the network and the Forum have played a valuable role in the selection of material for the series. I thank them all. For this particular CD, however, special thanks are due to the following people. For tracks 1-3, musicians Bob Barton, Paul 'Spud' Spedding, and Stan Stephens have given their full support to the project. For tracks 4-6, record producer and bandleader Andrew Hall provided the necessary permissions to release the material owned by Rampart Records. We had to work from a mint condition vinyl LP issue after we discovered that the master tapes were lost in Hurricane Katrina. For tracks 7 and 8, we thank Tom Stagg of Good Rockin', New Orleans. Spencer Pawson gave us permission to use the previously unissued track 9. For tracks 10-12, we thank the late Ken Pitchford of MEK records. Tracks 13-15 were chosen from a large amount of private material from the Dan Pawson-Chris Blount period, recorded by Kjeld Brandt, from Denmark, and Holger Bach and the late Peter Langhorn, both from Sweden. The generosity of spirit of these European comrades was inspirational. Dion Cochrane obtained the necessary permissions from the members of the Chris Blount New Orleans Jazz Band, and Henning Schadler of Music Mecca provided the necessary permissions to use tracks 13 and 15.

Keith Adams, Robert Greenwood, Rob Ridley, Paul 'Spud' Spedding, Stan Stephens, and Tony Taylor generously provided me with copies of their privately recorded material of Dan Pawson's various bands. Their recordings provided an important range of material that enabled me to finalise the selection of tracks for this CD. Spencer Pawson provided me with open access to his holdings of 'The Dan Pawson Collection'. Claire Kidwell, Head Librarian at Trinity College of Music, Greenwich, London, did likewise with those parts of the Dan Pawson Collection housed at Trinity College. Dion Cochrane and Dave Senior continued with their unstinting support of the project.

The Dan Pawson Project is dedicated to Pat Pawson, Dominic Pawson, Spencer Pawson, and to the memory of Dan Pawson (1936-2002).