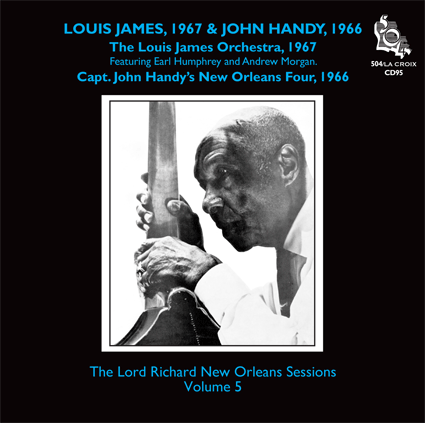 1.   I'll Always be in Love with You
2.   St. Louis Blues
3.   Hush, Somebody's Calling My Name
4.   Everywhere You Go,
      the Sunshine Follows You
5.   Shake it and Break it
6.   Please Don't Talk About Me
      When I'm Gone
7.   Hug-Me-Tight Blues
8.   The Sweetheart of Sigma Chi
9.   We Shall Walk Through the Streets
      of the City
10. Toot, Toot, Tootsie, Goodbye
11. Blues for La Croix
12. Perdido
13. Panama
14. Yearning*
15. While We Danced at the Mardi Gras*
16. John Handy's Boogie*
*Previously unissued
1-9 The Louis James Orchestra
Louis James – string bass, violin, Earl Humphrey – trombone, Andrew Morgan – tenor saxophone, clarinet, vocal on 2, 3, 7, 9, Clive Wilson – trumpet, Ernest Roubleau – amplified guitar, vocal on 4, 6, Lars Edegran – piano, Lawrence Trotter – drums
Recorded in the McAllister Auditorium, New Orleans, 2nd April 1967.
10-16 Capt. John Handy's New Orleans Four
John Handy – alto saxophone, Richard Simmons – piano, Barry Richardson – string bass
Barry Martyn – drums
Recorded in Egham, Surrey, March/April 1966.
It was in October 1965 that Clive Wilson first met Louis James.

Louis James invited Lars Edegran and Clive Wilson around to his house to show them his violin and run over a few tunes. Later, at his home, he told them of his plans to form a band of his own and asked them if they would join the band. He said he would use Ernest Roubleau on guitar with whom he had recorded that spring in his String Band (Mono LP11) and asked Clive and Lars who they would like to have in the band. Their choice was confined to those musicians who were not working regularly and, within a short time, the line-up on this CD was assembled. The band began rehearsals a week or so later and for a period played at occasional parties, dances, and for a few church services. At the time of this recording, however, the band was still unable to get regular work, neither was any member of the band playing with any frequency. In fact, shortly after this, his last recording session, Louis James died.

The selections on this CD are taken from the band's regular repertoire with the exception of the spiritual 'Hush, Somebody's Calling My Name'. Louis James taught Clive and Lars this one on his violin on the day of the recording, and Andrew Morgan sang the words from a hymn book he just happened to have with him.

LOUIS JAMES was born on April 9th 1890 in Thibodaux, La. His five brothers, his uncle and a cousin were all musicians. His first instrument was mandolin, but he took up the violin when he was thirteen, and the clarinet at fifteen. He was a self-taught musician and played with Joe Gabriel, the Youka Brass Band and the James Brothers Orchestra in Thibodaux. He moved to New Orleans around 1915 and played with such musicians as Manuel Manetta, Jack Carey and Frankie Dusen. Frankie Dusen had played valve trombone with Buddy Bolden in the early 1900s and took over the band in 1907 when Bolden was committed to a mental institution. James began playing tenor sax in the early 1920s, during which time he was playing in Thibodaux again. He returned to New Orleans in 1926 to play with Louis Dumaine with whom he recorded on tenor sax in 1927. Earl Humphrey was also playing on this 1927 recording date. James stayed mostly with this band, later playing string bass until Dumaine's death in 1949. But he also worked with his brother Willie James, with Percy Humphrey and with Ernest Roubleau at various times. In the 1950s and early 1960s he was mostly with the bands of Percy Humphrey and, later, Kid Howard. Louis James died in New Orleans on October 26th 1967.
ANDREW MORGAN was born on March 13th 1901 in Pensacola, Fla., but moved to New Orleans when he was nine years old. He bought a clarinet from Albert Nicholas in 1923 from whom he took a few lessons. He joined the Young Superior Band in 1924, but left to join his brother Isaiah's Young Morgan Band in 1925. He began playing tenor saxophone that year. His brother Sam joined the band the following year and they recorded in 1927. He was with Mike DeLay's Hollywood Revelle Band in 1930, and later played with the WPA Band. He was playing with Kid Thomas' band at the Moulin Rouge from the mid-thirties until 1942, but also played occasional jobs with his brother Isaiah and Kid Howard. Since then, he played with Kid Rena at the Brown Derby, with Andrew Jefferson and Herb Morand at Mama Lou's, with Albert Jiles' band at Happy Landings, at the Paddock Lounge with Bill Mathews, with Kid Howard all over town, and with John Casimir's Young Tuxedo Brass Band and Orchestra. After playing with the Louis James band, he took over the leadership of the Young Tuxedo Brass Band of which Earl Humphrey, Lawrence Trotter and Clive Wilson were also members. Andrew Morgan also toured Europe with Barry Martyn's Band in 1969. Andrew Morgan died in Algiers, New Orleans, on September 19th 1972.

EARL HUMPHREY was born on September 9th 1902 in New Orleans, La. His first instruments were cello and string bass, taught to him by his grandfather – Professor Jim Humphrey. He switched to trombone in 1917 and made his first trip to California with his father's band. He stayed over there for a while to play with Wade Whaley. He was in and out of New Orleans throughout the 1920s, but played with a variety of the best bands in the city (Sidney Desvignes, Manny Perez, Chris Kelly, Buddy Petit, the Onward and Eureka Brass Bands and, later, Lee Collins and Kid Howard). He recorded with Louis Dumaine's Jazzola Eight in 1927.

Earl was on 'on the road' with a tent show from 1931 until 1939 when he married and settled in Charlottesville, Virginia. He worked as a janitor in the city schools and retired from music. His wife died and he was very sick, so he decided to return to New Orleans where his relatives lived. That was in 1963. Since then he made something of a musical comeback, in which he was largely helped by his brother Percy, and by being a member of the Louis James band. He also became a member of the Eureka Brass Band, and played occasional jobs with Percy Humphrey and Kid Sheik. He recorded with DeDe Pierce in 1966 for Center Records. Earl Humphrey died in New Orleans on 26th June 1971.

ERNEST ROUBLEAU was born on December 26th 1896 in Killona, La. He took up violin and guitar around 1915, and banjo when he moved to New Orleans in 1919. He worked for a short time on banjo with Kid Rena and Chris Kelly, and stayed five or six years with Jack Carey's band. Then he was in Iberville, La. for a while, playing with Zeb Lenares who had been Rena's regular clarinettist. During the 1930s he spent a year in Johnson City, Tenn., but was mostly with small bands in New Orleans, sometimes with Louis and Willie James. He began playing the amplified guitar around 1942 when he joined Kid Thomas' band, staying with him for two years at the Moulin Rouge. At the time of this recording, he was still getting occasional jobs with Kid Thomas and sometimes Harold Dejan's dance band. Ernest Roubleau died in New Orleans on 7th June 1973.

LAURENCE TROTTER was born on October 15th 1911 in New Orleans, La. He took up drums in the 1930s and began playing with Robert Clark and his Brown Buddies. Later he played with Henry Russ' Orchestra at the Rhythm Club, and occasionally with Isaiah and Andrew Morgan. In the early 1940s he was at the La Vida Dance Hall with Capt. John Handy's Band, then for a year with Papa Celestin's twelve piece orchestra. He stopped playing in 1946 at a time when the band was making no money, and only began again in 1964. Both Lawrence Trotter and Roubleau were members of Israel Gorman's band until Gorman's death following Hurricane 'Betsy' in 1965. Lawrence Trotter died in New Orleans on 29th March 1984.
Lars Edegran from Sweden and Clive Wilson from England, were both younger players who moved to New Orleans in 1965. They subsequently became major influences in the continuation of New Orleans music throughout the 1970s, 80s, 90s and into the present millennium.

LARS EDEGRAN has been an innovative presence in New Orleans music as performer, arranger, bandleader, talent scout, and record producer. In 1967, he founded the New Orleans Ragtime Orchestra which toured the world. He received national acclaim when his soundtrack for Louis Malle's film Pretty Baby was nominated for an Academy Award and his orchestrations for the off-Broadway smash hit One Mo' Time resulted in a Grammy Award nomination for the original cast album. In 2007, Lars was honoured as New Orleans Music Ambassador at the 19th Annual Big Easy music awards for his efforts in raising funds for New Orleans musicians after hurricane 'Katrina'.
CLIVE WILSON studied the trumpet with a number of the legends of New Orleans jazz such as Kid Howard, DeDe Pierce, Punch Miller and Alvin Alcorn, gaining further experience as a member of the Young Tuxedo Brass Band and the orchestra of Papa French, amongst others. Since forming his own group, the Original Camellia Jazz Band, in 1979, Clive has toured and recorded many times with clarinettist Herb Hall and pianist Jeanette Kimball. In 2001, he assembled The New Orleans Serenaders, initially to celebrate the centennial of Louis Armstrong's birth, and has played jazz festivals on both sides of the Atlantic and toured in Britain with this band. One critic wrote in Jazz Journal: 'Clive Wilson's West End Blues has not sounded so brilliant since Louis Armstrong recorded his masterpiece over half a century ago.'

I first met Lars Edegran during my first trip to New Orleans in summer 1966. On that occasion, however, Clive Wilson was out of town and I did not meet Clive until my second trip to New Orleans in summer 1968. The Louis James recording on this CD had been made a year or so before I arrived in New Orleans in May 1968, and Clive had been unable to interest any record label in releasing it.

As Clive was to write, later:

'At first, however, no one was interested in issuing the session since Andrew Morgan played the tenor sax and not the clarinet on most tracks. In the minds of several friends of mine who owned their own small record labels, this session was not something they were looking for as they didn't like the sax.'

I had been enormously impressed by Reg Hall's 'Louis James String Band' session recorded in New Orleans on 19th April 1965 and released on Barry Martyn's Mono label, soon afterwards. At the time, it was fashionable in some quarters to dismiss this session as crude 'hillbilly' music, yet it seemed to me that it documented a neglected aspect of New Orleans music – a rougher style of violin playing than that associated with the sweeter Creole sounds of Armand Piron and Peter Bocage – that was a vital aspect of the history of New Orleans jazz. As Charles Townsend was to put it some ten years later, in 1976:

'Some of the best examples of black fiddle style for that era (the late 19th and early 20th century) are the recordings by Louis James. James admittedly patterned his style after Joe Gabriel, whose style originated around the last third of the 19th century. Gabriel had a band in Thibodaux in 1890 and played in the New Orleans and South Louisiana area. None of his recordings have survived – if any were ever made.'

When I learned that Clive's Louis James session also featured Earl Humphrey and Andrew Morgan – both very important figures in the history of the music – and had the added bonus of the amplified guitar of Ernest Roubleau, I knew I would be in for a treat when I finally got the opportunity to hear the tapes of the session. In early 1969, on my return to England, I released the session as La Croix LP 3. Later, Clive sold nine tracks from the session to Leonard Brackett's Center label who issued it under the name of 'Earl Humphrey and his Footwarmers'. Later still, Brackett sold all his Center releases to Biograph records. The Biograph catalogue is now owned by Shout! Factory who kindly granted me permission to use their Louis James/Earl Humphrey material on this CD.

Whilst in New Orleans in 1968, I had collaborated with Clive Wilson on my major project – that of recording the full Kid Thomas Band in a dance hall setting for La Croix records. This session had turned out particularly well, and when Clive, in turn, collaborated with Paige Van Vorst in the resurrection of New Orleans Records in New Orleans, Paige and Clive were keen to launch the label with selections from the La Croix Kid Thomas session which they did on New Orleans Records – NOR 7201.

Later, Paige and Clive went on to issue important material on New Orleans Records, before selling the label to George Buck's GHB Jazz Foundation. In due time, Paige became editor and chief contributor to the Jazz Foundation's journal Jazzbeat.

In his capacity as contributor to Jazzbeat, Paige wrote an important article on the alto saxophonist John Handy – 'Remembering Captain John Handy' – who features in the second set of this CD. As Paige put it: 'Captain John Handy became New Orleans' reigning king of the alto sax in the late 1920s and only relinquished that title on his death.'

John Handy's recording career – like Andrew Morgan's – suffered from the prejudice against saxophones of all of the New Orleans jazz record producers of the first wave of the New Orleans jazz revival of the 1940s.

Rudi Blesh's Shining Trumpets: A History of Jazz, first published in 1949, and often afforded biblical status in first wave revivalism, included the following typical passage in reference to the Sam Morgan Jazz Band session recorded in New Orleans in 1927:

'This record is an example of the fine playing of the average Negro band in New Orleans during the classic period. Made in 1928 [sic], it also shows the deteriorative effect when the saxophone, first introduced into the jazz band in Chicago probably around 1917-1919, replaces the clarinet. The tone quality of the band suffers, becomes heavy and overmellow with the reed's sharp, piquant clarity gone; the polyphony becomes unclear. The saxophone, used in jazz polyphony, can never satisfactorily assume the clarinet part. To be heard it must squeal, wail, pop obscenely, or distort the melodic part into a meaningless series of ascending or descending scales. Bunk Johnson, who knows the requirements of jazz polyphony, said, "It just runs up and down stairs with no place to go."

The doyen of all the first wave revival New Orleans record producers – Bill Russell – shared Blesh's and Bunk's views on the saxophone. Indeed, Russell is reported as saying that saxophones were useful only to asthmatics, to strengthen their lungs!

This prejudice against saxophones was widespread throughout the early years of the second wave of the New Orleans jazz revival in the 1960s. It led to tenor sax player Emanuel Paul being dropped from both of the Riverside Kid Thomas sessions recorded in 1960 and 1961, even though Thomas had been hiring saxophone players for decades, in preference to clarinettists. Even Ken Mills of Icon records felt obliged to record John Handy on clarinet for his ground breaking Icon LP2 release 'Kid Punch – 1960', even though Handy had not played clarinet seriously since the 1920s.

Fortunately, Mills more than rectified this lapse, with his brilliant 1962 re-creation of the 1927 Sam Morgan session featuring some of Morgan's original musicians which he released as Icon LP. 10. For this session, Mills paired Andrew Morgan on tenor saxophone with the alto saxophone of John Handy. Handy was in powerful form and he and Andrew Morgan made a sensational team. Handy's work on 'Ice Cream' was especially notable and this track, more than any other, set the stage for John Handy's late blooming recording career. The rest, as they say, is history.

I first heard John Handy live in Birmingham, England, as part of his European tour with Kid Sheik and the Barry Martyn band in 1966. Barry's documentary approach to New Orleans music, as well as his own musical preferences, played a major role in establishing the importance of the saxophone in the second wave of the New Orleans jazz revival. In particular, Barry championed John Handy's small combo work on alto saxophone and featured him on many recordings throughout the 1960s, as did 'Big' Bill Bissonette of Jazz Crusade Records in the USA.

Shortly after Handy returned to New Orleans from his European tour, he signed an exclusive recording contract for RCA Victor. My plans to record John Handy for La Croix were now thwarted. However, I did acquire the rights to one of the sessions recorded by Barry in England during John Handy's March/April 1966 tour of the UK. I issued four tracks from the session on La Croix LP7 – 'The John Handy Memorial' in 1972. A projected La Croix LP8 was to have featured another set from the same session. By the time of its likely release, however, I had moved on to other things and the record never materialised. Now, finally, some thirty five years later, I am delighted to realize the original plan on this CD, which features seven tracks from the session, including three previously unissued tunes.
JOHN HANDY was born on 24th June 1900 in Pass Christian, Ms. His family was musical: his father played the violin and led a brass band; his mother and sisters played the piano; and two of his brothers were musicians – Sylvester on bass and Julius on guitar. He was distantly related to W.C. Handy.

His first music was made by wetting a chair round and rubbing it to produce a bass sound. He taught himself to play the mandolin and bass when he was seven years old and worked a bit in a trio with his brothers. He began working with his father's brass band as a drummer when he was eleven years old.

Handy took up the clarinet when he was a teenager and immediately began getting jobs around Pass Christian. Tom Albert, a cornetist who'd worked with Handy in Pass Christian, moved to New Orleans around 1918 and invited Handy to join his group there. During his early days in New Orleans, Handy also worked with Punch Miller, Chris Kelly, Kid Rena, Buddy Petit, and in John Casimir's Brass Band.

He left New Orleans in 1924 and spent three years in Baton Rouge with Tut Johnson's band which included Guy Kelly, a wonderful young trumpeter from Baton Rouge. Little Brother Montgomery worked the same territory during that time and said there was no one out there who would dare challenge Tut Johnson – his band was unbeatable.

Handy and Kelly moved to New Orleans in 1927 and worked in local jobs. He was considered New Orleans' best clarinettist at about this time, though that changed around 1929 when he took up the alto sax. After that he was New Orleans' best saxophonist.

Handy worked in Amos Riley's band at the Danger Bar and later worked with Red Allen at the Entertainers' Club. The men from Fate Marable's riverboat band would come to town and try to show up the locals with their sophistication, but Handy was the one man they couldn't beat – the story is that one of Fate's saxophonists walked into the Entertainers, heard Handy, and walked right out as he knew he didn't stand a chance.

During 1928-29 Handy was a member of the band that Kid Howard led on the Louisiana & Nashville (L@N) railroad excursions. A promoter would rent a couple of boxcars, hire a band, and the rolling party would lead to Chicago. There would be stops along the way and the band would play and they would serve copious amounts of food and drink. Once in Chicago the group would play dances at Warwick Hall. The excursions provided a way for people still in New Orleans to visit their relatives who'd moved to Chicago during the great migration that occurred around the time of World War I.

John and his brother Sylvester, on string bass, organized the Louisiana Shakers, a very popular touring band during the early 1930s. In the late 1930s Handy, led the band at the La Vida Dance Hall which featured Kid Howard and Jim Robinson.

Handy may well be the prototype for jump-style alto saxophone. Two of the pioneers of that style, Earl Bostic and Tab Smith, worked on the riverboats and probably tried unsuccessfully to outplay Handy during their stopovers in New Orleans.

During this period Handy acquired his nickname. They were rehearsing one afternoon and Handy corrected some chord changes. When he next returned to the band, Fred 'H.A.' Minor said, 'shh, here comes Captain John Handy, the chord master.' The name stuck.

During the 1960s Handy worked regularly at Preservation Hall, generally in the Sunday night band, which was under the nominal leadership of Punch Miller; and with Kid Sheik's band. He also toured extensively throughout North America, Europe and Japan during this period.

Handy was a victim of Hurricane 'Camille' in 1969. His house stood but was heavily damaged in the storm surge. He put his life back together with the assistance of the Red Cross, particularly from ex-Ellington bassist Hayes Alvis, a longtime Red Cross aid worker.

Handy appeared at the Newport Jazz Festival in 1970 with Billie and DeDe Pierce's Preservation Hall Jazz Band, and in a special line-up of the Eureka Brass Band assembled for a salute to Louis Armstrong. This was Handy's last major appearance. John Handy died at home, in Pass Christian, Ms., on 12th January 1971.

For surge and bite he will remain unequalled.
The Louis James Orchestra tracks are issued by kind permission of Shout! Factory. Special thanks are due to Christina Rust for arranging permissions. For sources, see Rudi Blesh, Shining Trumpets: A History of Jazz, London: Cassell, 1949; Charles R. Townsend, San Antonio Rose: The Life and Music of Bob Wills, Baltimore, Maryland: University of Illinois Press, 1976; Paige Van Vorst, 'Remembering Captain John Handy', Jazzbeat, 2006, Volume 18, Nos 2 & 3, pp.7 & 28; Clive Wilson, 'The Louis James Orchestra' (1967), Liner Notes to La Croix LP3; Clive Wilson, 'Record Producing – Perspectives and Pitfalls', New Orleans Music, 2007, Volume 13, No. 6, pp. 6-11.