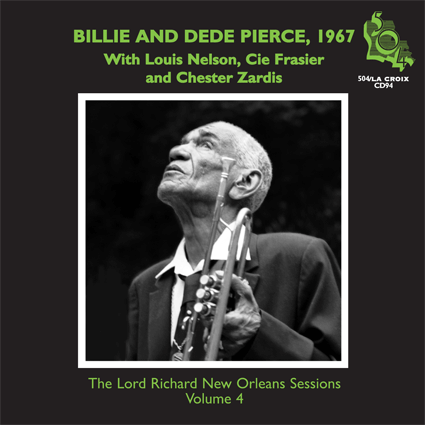 1.   Hindustan
2.   Careless Love
3.   Eh La Bas
4.   Ciribiribin
5.   Say Si Si
6.   Swanee River
7.   Love Songs of the Nile
8.   Down in Honky Tonk Town
9.   Bourbon Street Parade
10. Every Woman's Blues
11. Hello Dolly
12. Panama
13. Salee Dame
*All tracks previously unissued
DeDe Pierce – trumpet, vocal
Louis Nelson – trombone
Billie Pierce – piano, vocal
Chester Zardis – string bass
Cie Frasier – drums
Recorded in Stuttgart, Germany,
23rd January 1967.
Joseph La Croix 'DeDe' Pierce was born on 18th February 1904 in the Treme section of New Orleans – a Creole section next to the French Quarter. He grew up speaking both French and Creole patois as well as English. 'DeDe' was the nickname given to him by a young cousin he grew up with, and the name stuck, for many years written variously as 'Dede', 'Dee Dee', or 'De De'. By the 1960s, his business card was reading 'Billie and DeDe Pierce '. The same 'DeDe' was adopted in the Membership Directory of the American Federation of Musicians in the 1960s and since.

DeDe Pierce started playing trumpet when he was 17. His first professional job was around 1924 with Arnold DePass's Olympia Band. A year later, in 1925, DeDe made a home recording with the great New Orleans clarinettist Emile Barnes. According to Sam Charters, this recording was still in DeDe's collection in the 1950s but it was cut on an aluminium disc and was no longer playable.

For a short while in the early 1930s, DeDe worked with Paul Barnes' touring band. Throughout most of the Depression years, however, DeDe worked as a brick mason during the day – following the trade of his father – and at night played the rough dives in and around Decatur Street near the New Orleans dockside. It was during this time that DeDe first met Billie – he was working with Billie 's sister Sadie Goodson while Billie was working in an adjacent block on Decatur Street. Before long Billie and DeDe teamed up. Pleasant 'Cousin Joe' Joseph gives the flavour of Billie and DeDe's show at the Kingfish on Decatur:

'That's the only place I ever worked at that I was scared to go to work . . . Every Saturday night the sailors used to come off the riverboats and they used to come in the joint. They used to drink their beer in those glass mugs with a handle on them. Glass! When they'd get full of that beer, when they'd start a fight, you talk about the biggest free-for-all you ever seen in your life! Mugs would be flying all over the place. They'd be busting them and blood would be jumping from people's heads. Me, I'd be under the piano, myself. Hiding. I was so scared I didn't know what to do.'

'Willie Madison 'Billie' Pierce, nee Goodson, was born in Marianna, Florida on 8th June 1907. She left Marianna as a baby and was raised in Pensacola, Florida. All her family were musical. She was picking out the blues on the piano when she was still too young to talk properly. The best New Orleans bands came to Pensacola – Papa Celestin, Buddy Petit, Kid Rena, Kid Punch Miller, King Oliver – and Billie would sneak out of the window at night to hear them play. Her father wouldn't allow her to go. In 1922, Billie first accompanied Bessie Smith at the Belmont Theatre in Pensacola and toured Florida with Bessie when Bessie's regular accompanist, Clarence Williams, fell ill. In those years, Bessie Smith and Ida Cox were the only singers that Billie liked. Later, in 1929, Billie got to play with Buddy Petit in New Orleans when she took sister Sadie Goodson's place as Buddy's pianist. Billie played with various travelling shows in Florida and Alabama before settling in New Orleans around 1930, when she started with Alphonse Picou, working at the Rialto every night. After a couple of years she moved on to Luthjen's, where she played off and on for about twenty-four years.

It was at the Kingfish, in 1935, that DeDe joined the band that included Billie Pierce and George Lewis: Billie and DeDe were married a few weeks later, on 28th March 1935. As Billie tells it: 'We had a big wedding – George Lewis was there, Jim Crow [Jim Robinson] and Kid Howard.' From that date on, Billie and DeDe's musical careers, as well as their personal lives, were inextricably entwined. Occasionally, DeDe would lose out on a recording session because there was no piano available for Billie. Conversely, occasionally DeDe got work that he might not otherwise have had by joining Billie in the planned session.

Such was the case, in what is almost certainly the first recording session ever made of a regular working New Orleans dance band of the 1930s and 40s – the Emile Barnes' Harmony Four – recorded in 1946 by Sam Rudivich and Charles Bowler and first released some 50 years later in 1997 (American Music, AMCD-102). In deference to band member Billie, Rudivich and Bowler decided to use DeDe in addition to the regular trumpet man Lawrence Tocca on two tracks, namely, 'High Society' and 'Walking the Dog'. It is difficult to discern DeDe on 'Walking the Dog', but on 'High Society' DeDe's contribution is clearly evident. As jazz musician and critic, Doug Landau, puts it: 'after the bridge passage he [DeDe] plays the usual clarinet obbligato, and on the break plays a very fast string of descending notes. It is all rather brief, but clearly, in the technical sense, he was a force to be reckoned with.'

The local New Orleans bar and seafood restaurant 'Luthjen's' was converted into a dance hall in the late 1930s. For most of the 1940s, 'Big Eye ' Louis Delisle Nelson 's band held the weekend residency there until his death in 1949. DeDe occasionally played in this band, and it was DeDe who took over the residency from 'Big Eye' in 1949. He brought in Billie and the Billie and DeDe Pierce Band were to play there at the weekends for over a decade. Mostly, they used quartets. The most popular dances requested were the two-step, the onestep and the waltz.

Luthjen's became the hotspot, not only for the elderly white working class regulars who came there to dance, but also, for the small group of young white New Orleans jazz enthusiasts who came to New Orleans in search of old-style New Orleans jazz in the 1950s. Many of these enthusiasts were transfixed by what they saw and heard at Luthjen's. The British New Orleans-style 'purist' trumpet player Ken Colyer gives the flavour in a letter published in the Melody Maker on 2nd January 1953:

'It's just perfect to go to Luthjens (pronounced Loojens) and get an earful of educating music from Billie and DeDe Pierce with Harrison Barnes and George Henderson. The Band play very quietly most of the time, with a distinctive rocking rhythm that has many subtle undercurrents. DeDe is a great showman as well as a superb hornman. They play until 3.30am and one goes away with the satisfaction of having heard a wonderful night's music.'

A number of enthusiasts recorded the Billie and DeDe Pierce Band live at Luthjen's informally during the 1950s. A 1954 Sam Charters recording was issued on Folkways and Topic in the early 1960s and an earlier John Bernard 1953 recording was released on Center at the beginning of the 1970s.

In 1954, DeDe went blind. A few years later Billie was hospitalised with cancer. Their musical careers appeared to be over, but at the end of the decade they began a remarkable come back, helped, initially, by their playing at the informal sessions at Larry Borenstein's Associated Artists Studio in the French Quarter in New Orleans. Two selections of tracks from these privately recorded sessions (with Kid Thomas) were released on 504 Records – in 1994 (504 CD36) and in 2004 (504 CD39). Allan Jaffe, manager of Preservation Hall, consolidated Billie and DeDe's recovery. As Billie and DeDe told 'Big' Bill Bissonette in 1966, Allan Jaffe 'turned (our) lives around and made life worthwhile again.'

Billie and DeDe's first important come back recording session was made by Dr Harry Oster and Richard Allen in New Orleans on 14th October 1959. The session featured Billie and DeDe with Brother Randolph on washboard and Lucius Bridges on tom tom. The recording had a notably archaic and rough sound that made it well suited for release on Folk Lyric, and later Arhoolie, which specialised in blues and world music. A year later, Billie and DeDe recorded in a full band session that provided a pivotal illustration of the difference between their old-style approach and other approaches then prevalent within traditional jazz.

In 1960, the Chris Barber Jazz Band from the UK were on their third tour of the USA and had become internationally famous as the most sophisticated of all the British traditional jazz bands. In New Orleans, local luminary and musician Dr Edmond Souchon was referring to them as 'the most authentic Dixieland outfit now playing'. The Chris Barber Band was invited to attend a New Orleans Jazz Club party held in their honour. They were expecting to hear Billie and DeDe who were booked for the party and renew their acquaintance with drummer Paul Barbarin. However, they arrived at the party to find it fully prepared for a recording session with New Orleans-based musicians such as Paul Crawford and Dr Edmond Souchon also in attendance.

Chris Barber's comments make the essential points with splendid economy:

'This session in New Orleans was our first encounter with American black musicians for the purpose of recording. Billie Pierce plays a rather old fashioned style of piano, except in the blues, when she introduces modern influences. She sings in the bluesy vaudeville tradition, a little like Clara Smith. Graham Burbidge [Barber's drummer] dropped out for a while to let Paul Barbarin take over the drum chair, and so did Pat Halcox (Barber's trumpeter), for De De Pierce is a trumpet player in the early New Orleans style. However he and Pat joined forces on a couple of numbers, which was very interesting. De De, who incidentally is blind, [is] very rhythmical in his style, and punched out his notes in a jerky, twenties style, yet, because of this he is an extremely effective lead for a New Orleans Band. The result of this injection to the band's sound was startling. The authentic slightly archaic feel of New Orleans was there immediately, with Paul Barbarin's heavy parade drumming giving a real New Orleans core to all the numbers we played.'

Billie and DeDe provided pivotal contributions to all of the most significant record series made during both the first and second phases of the New Orleans jazz revival, although the bulk of the recordings originally made for Ken Mills' Icon label in 1960 were released later on Jazzology only after Icon had folded.

Billie and DeDe featured on 'American Music by Emile Barnes', the LP album recorded in 1951 by Alden Ashforth and David Wyckoff and released by Bill Russell on his American Music label. This one record deserves a category of its own. As DeDe's student Dan Pawson put it: 'First of all there was that beautiful A.M. session with Mile Barnes which is so unique and so moving, so primitive and so deep.' This release, incidentally, was the first ever 'high fidelity ' recording of the old-style New Orleans musicians recorded in New Orleans.

In addition to the archaic and authentic quality of old-style New Orleans jazz, there is often a certain ramshackle feel to many of the recordings. Barry Martyn, who was present at the important 1961 Riverside series of recordings in New Orleans that focused on Billie and DeDe's bluesy barrelhouse duets, noted:

'Billie and De De were recorded and that was the most comical session of all. There were just the two of them and Albert Jiles was on drums. The first number began when Jiles was outside taking some air. Herbert [Friedwald] ran out and fetched him and he came in half way through the first take of a number. The organisers wanted to do three takes of everything, but you couldn't organise Billie and De De to do that. So they ended up with two albums.'

Yet DeDe was highly professional when the occasion demanded it, as was evident in his more polished session with Billie, Louis Nelson, George Lewis, 'Papa' John Joseph, and Abbey 'Chinee' Foster, for the major Atlantic series recorded in New Orleans in 1962. DeDe also fitted in exceptionally well with the particular preferences of the record producers who recorded him for their specialist New Orleans jazz labels in the 1960s. For Mike Hazeldine, DeDe provided a delightfully ramshackle dance-hall type session, in 1963, featuring trombonist Eddie Summers and clarinettist Israel Gorman, first released on Barry Martyn's Mono label. For Tom Bethel, in 1964, DeDe led the driving polyphonic ensemble 'San Jacinto Hall' sound that Bethel sought for his San Jacinto label – featuring American Music stalwarts George Lewis and Jim Robinson. For the two albums recorded for Leonard Brackett's Center label, in 1966, DeDe contributed a particularly sensitive and tasteful lead. Both of these albums featured songs that were usually played in dance halls.

As these very varied recordings testify, of all the old-style New Orleans trumpet players, arguably, it was DeDe who played the most pivotal role in the transmission of the mature old-style trumpet tradition throughout the various phases of second wave revivalism throughout the 1960s and into the 1970s.

Many old-style trumpet players who had recorded during the first wave of the New Orleans jazz revival in the 1940s, most notably Kid Rena and Bunk Johnson, had died before second wave revivalism began in the 1960s. Many others, such as Kid Howard, had only just survived the early years of the second wave revival. Still others, who spanned both phases of the revival, such as Kid Thomas, had fashioned their trumpet styles in the years preceding the flowering of the old-style New Orleans jazz tradition in the 1920s and were strikingly different in their approach – in Thomas's case, minimalist and less fluid.

Ken Mills elaborates: 'In the years from 1919 to 1927, the New Orleans trumpet style flowered into a complex, brilliant art, without losing the marrow-like tone which had always characterized the music. Kid Punch Miller, Buddy Petit, Chris Kelly, Kid Rena, and Sam Morgan were the kings, all of them perpetrated (sic) the virile simple lead of the older men like Oliver, Keppard, and Mutt Carey, into an involved, melodic line of intense individuality.'

However, as the 1920s passed, so did these standard-bearers of the New Orleans trumpet style. By 1927, Chris Kelly had died and Punch Miller had left town. During the next five years, Kid Rena's lip would be gone, Buddy Petit would be dead, and Sam Morgan's second stroke would finish his band.

The field was now open for the followers of these trumpet kings to continue and develop the traditions set by their idols. DeDe was exceptionally well placed to do this. He had played second trumpet in the bands of no less than three of the greatest trumpeters of the period - Kid Rena, Chris Kelly and Buddy Petit. Indeed, he had taken lessons from Rena for over six months.

Each and every one of the old-style New Orleans trumpet players developed their own unique style. From one point of view, DeDe's particular staccato curlicue emotional style is, indeed, unique. However, there seems little doubt that in developing his style, DeDe did so within the traditions established by such men as Rena, Kelly and Petit.

In a 1959 interview, DeDe said that his favourite trumpet player was Kid Rena and that he had taken Rena's style almost exactly – referring, perhaps, to Rena's fast fingering and his high pitch work. DeDe knew and played with the legendary Chris Kelly who played more blues than any man in New Orleans. Ethnomusicologist Sam Charters tells how Chris Kelly would develop simple blues phrases into an intense outburst of emotion and 'played with a melodic suppleness and an incisive attack that influenced many of the younger players'. Undoubtedly DeDe took on board something of this influence. Interestingly, DeDe thought that Rena played a better class of music than Buddy Petit who is often referred to as the king of the New Orleans cornet players of his period. Like Chris Kelly, Petit was renowned for the blues. Petit was said to play with a 'tantalizing rhythmic swing that made the girls squeal when they heard him play'. DeDe 's playing, at its best, merited similar comment.

Steeped in such traditions and honing his skills in the bar rooms and dance halls of New Orleans throughout the 1930s, 40s and 50s, it was hardly surprising that when second wave revivalism took root in New Orleans in the 1960s – when live old-style New Orleans jazz soon became a spectacle for seated tourists – DeDe's playing remained especially redolent of earlier times.

English enthusiast Richard Knowles, writing of his first trip to New Orleans in 1962, puts it this way:

'The "Hall" [Preservation Hall] had been going for about 7 months . . . For their repertoires most bands relied heavily on jazz standards and although playing superbly many had already made the transition from dance to concert hall bands. There were exceptions . . . Billie and Dee Dee, well they were just Billie and Dee Dee. It was as though they had never left Luthjen's or even the dives they had played along Decatur back in the depression years. They would play a whole set of numbers you wouldn't hear anybody else play; songs like "Bicycle Made for Two" or "I'm Forever Blowing Bubbles". Dee Dee's playing was superb and any band which had Billie and Dee Dee in it had the best two singers in town. Dee Dee blind for five or six years was absolutely bounding with energy, jumping up at every opportunity to take a solo or vocal chorus. It has often been said, that, like Kid Howard, he was heavily influenced by the playing of Chris Kelly and while it is obvious that they shared a common inspiration other than Armstrong, you would have had to have gone back to the [1943] Climax session to have heard Howard playing with the fire and brilliance Dee Dee had that spring.'

It was not until some four years later, in 1966, that I first visited New Orleans and heard Billie and DeDe at Preservation Hall, for myself. Their repertoire had become more routinised by this time. Nevertheless, it was their band – together with the Kid Thomas Band – that provided the highlights of my 1966 trip. As I have written elsewhere, when I returned to New Orleans in the May of 1968, set to record the finest of the oldstyle music still being played in the city, it was DeDe Pierce who topped my wish list of possible recording sessions. My funds were insufficient to pay for a full band at Union rate, and I was planning a quartet around DeDe, possibly with Paul 'Polo' Barnes on clarinet. DeDe was happy about that and we got as far as discussing his preferred drummer – Alex Bigard. However, it transpired that Allan Jaffe, then managing Preservation Hall and the Preservation Hall touring bands, had negotiated an exclusive deal with Pierce. DeDe felt unable to record without Jaffe's permission and Jaffe was resolute in withholding that permission. I have never forgotten the particular mix of resignation and respect on DeDe's face when he told me I would indeed have to seek Jaffe 's permission.

Soon after arriving in New Orleans in the spring of 1961, Allan Jaffe's interest and training in management and promotion led him to see the potential of developing touring for the Preservation Hall musicians. From the time he took over as manager of Preservation Hall, with his wife, Sandra, in September 1961, Preservation Hall tours would become increasingly frequent and popular, providing a steady source of revenue. Initially, Billie and DeDe went on concert tours without particular control or edicts from the Jaffes, well evidenced, for instance, by two 1962 Binghampton, N.Y, concerts recorded at Harpur College (American Music AMCD-79, 80, 81, and 82), However, by the mid-1960s, when Allan Jaffe once permitted Billie and DeDe to guest with 'Big ' Bill Bissonette's Easy Riders Jazz Band, in Connecticut, for instance, Jaffe stipulated that there should be no recordings made on the tour. By 1967, the Jaffes had effectively sewn the Pierces into an exclusively Preservation Hall package.

This arrangement worked well for Billie and DeDe in many regards. It led to the Pierce's gaining a measure of worldwide recognition and an income that would have been beyond their wildest dreams only a few years before. They toured in Europe in 1967. As Billie put it: 'We been to Europe, oh yeah. Went to Rome. That was a real treat to me. Seven countries in 21 days. Copenhagen, Stockholm, all those places – we was there. Snow and ice outside, but boy was it happy inside!' They played at the Olympic Games in Mexico City in 1968 and in Israel in 1970. They appeared on many television shows and radio broadcasts. They toured the USA from coast to coast from the mid-1960s onwards. Relatedly, their in-house LP album, 'New Orleans' Billie and DeDe and their Preservation Hall Jazz Band', recorded in 1966 for the Preservation Hall label, sold well.

However, from the standpoint of the enthusiast of New Orleans music, and of Billie and DeDe's music in particular, the arrangement was regrettable. It led to a drastic curtailing of Billie and DeDe's potential recording activity. Never again would they record outside of the Preservation Hall format, after 1966.

A record of their live appearance with the Eureka Brass Band and the Preservation Hall Jazz Band at a concert given in Newport, Rhode Island, in July 1970, was released on Wolf, complete with a narration by Louis Armstrong. A live appearance at a concert given at Stanford University in July 1972 was issued on the Preservation Hall label. However, apart from these two LP albums and an illicit Rarities issue of their Preservation Hall Jazz Band live concert in Tivoli, Copenhagen, February 1967 – with Willie Humphrey on clarinet – there were to be no more new recording sessions for Billie and DeDe in the seven year period between the Center recording of November 1966 and DeDe's death on 23rd November 1973.

So, Allan and Sandra Jaffe had launched Billie and DeDe on their first and only European tour in January 1967. Billie and DeDe arrived in Stuttgart for the first gig of the tour with a first rate band. Trombonist Louis Nelson and clarinettist George Lewis made up the front line with DeDe. The rhythm section was made up of Billie, Chester Zardis on bass, and Cie Frazier on drums. Unfortunately, however, George Lewis was taken ill in Stuttgart shortly before the first gig and had to fly home. All the evidence suggests that DeDe and Nelson wanted Albert Burbank or Paul Barnes to be flown out to replace Lewis. Allan Jaffe sent clarinettist Willie Humphrey. However, for the first two concerts – those at Stuttgart and Bremen – Willie Humphrey had not yet arrived from New Orleans and the band went ahead without a replacement for George Lewis.

The result, as evidenced on this CD of the Stuttgart concert, was to prove awesome. Swiss jazz promoter Hannes Anrig put it this way:

'I came to the concert to see George Lewis, he was the only one I knew. I'd never heard of the others. Then I learned George Lewis was not there, being ill. When I saw an old lady lead a fragile old man onto the stage, whilst carrying his horn, I was considering going home. Thank God I didn't, because I would experience one of the most exciting musical events of my life.'
Indeed, Louis Nelson and DeDe both play superbly and provide a high energy cocktail markedly different to their respective contributions in a three-man front line, in recordings such as the 1966 Preservation Hall record that featured the same band with the additions of George Lewis and banjoist Narvin Kimball.

Poorly recorded copies of a cassette tape of this Stuttgart concert had been circulating privately amongst enthusiasts for a number of years before Dion Cochrane first drew my attention to one of these. I then learned that the Dutch bandleader and jazz writer Adam Olivier had approached Mike Dine of 504 Records with a restored version of the tape in CD format. Although the result is by no means high fidelity, it did provide a source with which we could work. Thanks to Adam Olivier and Mike Dine, it became possible for me to finally fulfil my strong but thwarted desire of 1968 – to produce a Billie and DeDe Pierce disc.

The session on this CD documents the transition Billie and DeDe's Band made to the concert hall, but it does so at a time well before the demands of concert hall touring began to undermine the band's spontaneity and creative spark. In particular, without the additional personnel Jaffe often included in the band, we are left with a pared down combination that brings out the best in everyone on the CD. Billie and DeDe are in their finest fiery form. Louis Nelson, so rarely featured in a two-piece front line, excels. Cie Frasier provides his usual tasteful drumming, and Chester Zardis, on string bass, is in exceptional form.

Of all the old-style trumpet players active throughout the 1960s and into the 1970s, DeDe has, perhaps, attracted the widest range of comment and acclaim. Most frequently mentioned are his fat, warm, and sweet tone; his impassioned punching lead; his impressionistic style – full of colour, light and shade; his liveliness and lightning flare ups; and, most of all, his intensity and soul. As William Carter put it: 'The contagious fun and shared pain were no act'.

To my way of thinking, however, fellow New Orleans trumpet player Percy Humphrey captured the essence of DeDe 's greatness better than anyone when he said that DeDe was such a great trumpet player 'because he had that soul, that fire and dignity and tenderness, rushing out altogether through his shining horn'.

Just listen to DeDe's soul, fire, dignity and tenderness on 'Love Songs of the Nile' on this CD, to enjoy this greatness. In full complement, Billie provides a remarkable vocal in the classic blues tradition on this, perhaps their finest, recording of this 1930s popular song. There will never be its like again.
Special thanks are due to Adam Olivier for making this CD possible and for clarifying a number of points, and to Bruce Raeburn, Curator of The William Ransome Hogan Archive of Jazz, Tulane University, for providing me with transcripts of 'Billie and DeDe Pierce', 2nd April and 7th October 1959 (Interviews by Richard B. Allen; also present William Russell, Ralph Collins, Ernest Trepagnier). For additional sources, see Alden Ashforth, 'Emile Barnes', CD Booklet (1993) accompanying American Music, AMCD-13; William Carter, Preservation Hall: Music from the Heart, 1991, New York: W.W. Norton & Company; Samuel B. Charters, Jazz New Orleans, 1885- 1963, 1963, New York, N.Y.: Oak Publications; Doug Landau, 'Joseph De La Croix "DeDe" Pierce, 1904-1973', New Orleans Music, Vol. 12, No. 2, 2005, pp. 12-17; Adam Olivier, 'Billie and DeDe's Preservation Hall Jazz Band Minus One – The Greatest Short Band Ever?' New Orleans Music, Vol. 12, No. 5, 2006, pp. 10-13; Tom Stagg, 'Chris Barber's Jazz Band', CD Booklet (1994) accompanying 'GHB, BCD-43.'