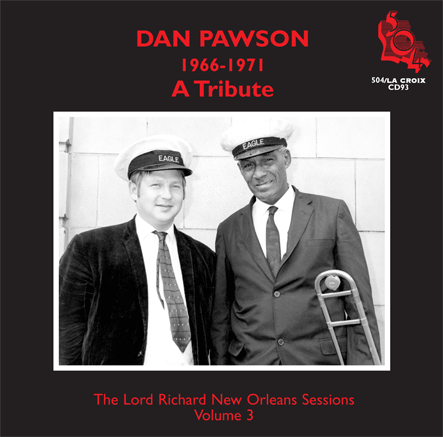 1.   Hindustan*
2.   Blues in F*
3.   There's Yes! Yes! in Your Eyes*
4.   Country Boy Down in New Orleans*
5.   When You Wore a Tulip*
6.   Whoopin' Blues*
7.   Linger Awhile*
8.   Indian Love Call*
9.   Deep in the Heart of Texas*
10. West Lawn Dirge*
11. 452*
12. Lord, Lord, Lord, You've Sure Been
      Good to Me*
13. Red Roses for a Blue Lady*
14. Ladies of Calcutta
15. La Golondrina
16. Je Vous Aime
17. Sweetheart Medley
18. Take Her to Jamaica
*Previously unissued
1-6 Dan Pawson's Artesian Hall Stompers
Dan Pawson – trumpet, slapstick, vocal, Dave Senior – trombone, Dick Bridges – clarinet
Clinton Sedgley – banjo, Derek T. Jones – string bass, Paul 'Spud' Spedding – drums
Recorded live at The Cambridge Inn,
Birmingham, 8th December 1966 (1-3), 14th July 1966 (4-6).
7-9 Louis Nelson's Serenaders
Louis Nelson – trombone, Dan Pawson – trumpet, Bill Greenow – clarinet, alto saxophone
Richard Simmons – piano, Brian Turnock – string bass, Barry 'Kid' Martyn – drums
10-12 The Eagle Brass Band
Louis Nelson – trombone, Mike Casimir – trombone, Jim Young – brass bass
Dick Douthwaite – Eb clarinet, John Defferary – tenor saxophone, Bill Greenow – alto saxophone
Dan Pawson – trumpet, Tony O'Sullivan – trumpet, 'K' Minter – snare drum
Barry 'Kid' Martyn – bass drum, leader
Recorded at The White Horse, Willesden, London, 25th June 1967 (7-9), 4th July 1967 (10-12)
13-18 Dan Pawson's Artesian Hall Stompers
Dan Pawson – trumpet, claves, tambourine, vocal, Stan Stephens – trombone
Bob Barton – piano, Paul 'Spud' Spedding – drums
Recorded at The Birmingham Arms, Birmingham, 28th November 1971.
Dan Pawson was born in Birmingham, England on 29th August 1936. When he died on 29th November 2002 he had been a New Orleans-style trumpeter and bandleader for over forty years and a respected writer on New Orleans jazz for some thirty years. At the time of his death, he was a world leading authority on early jazz and the New Orleans jazz revival. Together with Barry Martyn, Dan Pawson was one of the two European life-long world champions of 'old-style' New Orleans jazz – the tradition that was documented on the New Orleans 'revivalist' records of the 1940s and that experienced its second wind with second wave revivalism of the 1960s and beyond.

First-wave old-style New Orleans jazz revivalism was very largely the creation of the American jazz writer, jazz historian and jazz record producer, William 'Bill' Russell. Building upon the work of his fellow pioneering jazz explorers who had first recorded Bunk Johnson's Band in 1942, Russell left a legacy of American Music 78 and LP recordings that provided the foundations upon which a world-wide old-style New Orleans jazz movement would be built. Similarly, the second-wave revivalism that began in 1960 with the opening of Preservation Hall in New Orleans, was built, principally, upon the work of a number of jazz record producers, most notably, Ken Mills of Icon Records and Barry Martyn of Mono Records.

Dan Pawson had first heard a Bunk Johnson record – the 1945 HMV 78 of 'High Society' and 'Darktown Strutters Ball' – in 1950, as a 14 year-old schoolboy, and it was this record that set him on a life long quest to play within the idiom of old-style New Orleans music. In a fragment of his autobiography written in 1969, Dan notes how the sounds of Bunk sustained him through his earliest and most miserable years at Shrewsbury School, a leading English public boarding school. As William Carter put it, writing of himself in an American context: 'I doubt I'm alone among traditional jazz enthusiasts in having felt that, while wandering in an urban desert, one suddenly heard the trumpet call of Truth.'

Carter recalled: 'Looking back, that magnetism seemed somehow related to the shyness that so afflicted me in those early years. Behind the jazz and the blues and their folk sources was an uninhibited joy, an emotional honesty, which one longed for amid WASPish [white Anglo-Saxon Protestant] constraints. Hiding it, virtually fearing it within oneself, one can nonetheless be powerfully attracted by it when it manifests in something or someone else. I sometimes wonder how many white fans are drawn to black music for the same reason. Integrity of spirit and feeling is one of the American Negro's great musical gifts to the world.'

In Dan's later years, cognoscenti of old-style New Orleans jazz would refer to Dan as 'a black man trapped in the body of a white man', in acknowledgement of Dan's 'integrity of spirit and feeling' which never wavered throughout his entire career as a New Orleans-style jazz musician and bandleader.

However, whereas most of the black New Orleans' musicians – whatever their hell-raising pasts – tended to mature into 'gentle' men as they aged, Dan's rebellious and wayward spirit and his hatred of cant mellowed not one jot with the passing of the years. His hell-raising exploits were legendary amongst musicians. A particular favourite of mine which captures much of the essence of the man and his approach to his music is documented in a letter written to the British peace activist and traditional jazz promoter John Minnion, who had arranged for Dan's band to do a 'Peace Pledge Union' gig. After the gig Minnion received the following muted 'thank you' letter from the General Secretary of the Peace Pledge Union:

'It is not easy to arrange a party for such a wide age-range as from 14 years to 82 (all of whom danced!) not to mention babies and toddlers. Your "Salutation Stompers" were first class musicians and absolutely perfect for the occasion. If I seemed a bit brisk at the end it was only through the terror of a General Secretary – I was too frightened to say good-bye properly in case they decided not to leave us! Extraordinary for a host to want a band that played so well to leave when they were so cheerfully giving over-time entertainment! My terror started when your trumpeter [Dan] swayed along the passage to Father Conrad's private study and bedroom calling out 'F– the Pope. Dear God . . I thought you coped brilliantly but it was a bad moment!'

Dan had been playing violin for some 6 years when he first heard Bunk in 1950. By 1953 he was leading the first violins in the School Orchestra, and getting fired for yelling, 'Oh play that thing!' during Hallelujah Chorus breaks at a speech day concert. That same year, he took up bugle in the school army cadet band, followed a year later by the trumpet. During the fifties he hung around London clubs – Humphrey Lyttleton's, Cy Laurie's, Ken Colyer's, and the like. His first gigs were with the Dutch Swing Cottage Band in 1955 just before his reluctant national service in the Royal Pioneer Corps. Typically, Dan got the last laugh – playing an unofficial reveille and getting the entire camp arising an hour before time!

At the same time, Dan was a kind and sensitive man. 'If your enthusiasms matched his, then you were a friend for life', as jazz writer Mike Hazeldine put it. But more than that: Dan was a man who changed people's lives. Certainly, he was one of a handful of men who set the course for my life after I first met him in early 1964. Needless to say, it was the components of that life-course contributed by Dan that provided me with the most unalloyed pleasure! Characteristically, Dan had sought me out when he learned that I was a member of the UK-based New Orleans Jazz Appreciation Society (formerly the Bunk Johnson Appreciation Society).

Following national service, between 1957 and 1959, Dan listened to many different bands and collected a wide range of traditional jazz records. He heard Sidney Bechet in Paris, and George Lewis (with Ken Colyer's Band) and the Kid Ory Band with Henry 'Red' Allen in the UK. However, as with so many British New Orleans-style musicians of Dan's generation, it was his hearing the full George Lewis band live during their 1959 British tour that cemented his musical direction. The experience was a 'revelation' to Dan, crystallising the musical sound he was to set for himself for the next number of years. A further epiphany occurred, shortly afterwards, when Dan acquired an 'illegal' dubbing of his first American Music LP in early 1960 – 'American Music by George Lewis and Kid Shots Madison'. Dan was particularly affected by the Kid Shots Band's renditions of 'Dumaine Street Drag' – an original slow blues – and 'When You and I Were Young Maggie' which as Bill Russell put it: 'show(s) what this enthusiastic group can do with popular tunes and folk songs'.

Another major influence, at this time, was the American Music LP 'A Nite at Artesian Hall with Wooden Joe's New Orleans Band'. Wooden Joe Nicholas (born 1883) had long been known in New Orleans as the most powerful cornetist since Buddy Bolden when this recording was made in May 1945. As Bill Russell explains: 'Artisan's Hall (pronounced Artesian in New Orleans) was the home of one of the many downtown social and fraternal organizations. In times gone by the hall was often used for dances. Then the musicians climbed to the balcony over the front entrance which served as a bandstand. A space for their heads had been cut out of the ceiling.' Appropriately, 'Artesian Hall' was the name chosen in early 1960 when Dan formed the Artesian Hall Stompers in Birmingham, mainly from the Dauphine St. Jazz Band, a local West Bromwich group. Bill Russell's sleeve notes were to be prophetic of influences that would remain with Dan for over 40 years until his death and are especially evident on this CD: 'Some of this sound was fortunately preserved, although very imperfectly . . . Still some of the warmth and vitality of this happy music comes from the grooves. There is a genuineness about it not often found in these times . . . Wooden Joe once remarked that he liked to "play for the people – anything they want", and he mentioned that they usually enjoy a simple melody . . better than some fancy piece . . . This performance demonstrates in a rather terrific manner the fact that a New Orleans group of any size and instrumentation can sound like a full band when they really get together.'

Dan's father had been an enthusiast of the Latin American sounds of Edmundo Ross, an influence that was to have a lasting influence on Dan – what Jelly Roll Morton referred to as 'the Spanish tinge' in New Orleans jazz. From 1960 onwards, Dan listened to many Birmingham West Indian bands, playing mainly calypso and dance music. Later, he would become a serious student of the sounds of Guadeloupe and Martinique. These Latin American and West Indian influences are especially evident in the 1971 session on this CD.

A central preoccupation of Dan's had always been his particular take on the interrelations between the archaic, the 'purism' and the authenticity in New Orleans jazz. In October 1960, the Artesian Hall Stompers cut a demo disc of the band playing their versions of 'Dumaine Street Drag' and 'When You and I Were Young Maggie'. Featured in the first of a series of Dan's scrapbooks documenting the development of the Artesian Hall Stompers, from 1960 onwards, is a pair of roughly sketched and cut out record labels entitled 'Archaic' that Dan had designated for his 1960 demo disc. 'Archaic' was a word Dan often used to distinguish the sound of old-style New Orleans music from slicker variants of traditional jazz.

In the 1950s and for a short time in the 1960s, Dan was drawn to the concept of 'purism' as espoused by the British trumpet player Ken Colyer in Colyer's opposition to commercial British 'trad' jazz. First wave New Orleans jazz revivalism had been built upon the rhetoric of 'purism' that Ken Colyer had then applied in a European context. Bunk Johnson and his sidemen from New Orleans were taken to represent a particular style of jazz – melody with a beat, set within a polyphonic ensemble front line of trumpet, clarinet, and trombone, over a driving rhythm section consisting of string bass, drums and banjo or piano. Devotees of this sound argued that Bunk and his men were 'pure' in the sense that they had not been 'contaminated' by certain 'developments' of early jazz – most notably those that led to increasing soloing, the display of technical prowess, and a move to rehearsed arrangements. These developments were thought to be exemplified in the recordings of Louis Armstrong and Jelly Roll Morton made in Chicago in the early-mid 1920s. The 'purists' were also considered 'pure' in the sense that they were 'uncontaminated' by the commercial and the popular. The 'contaminated' white Original Dixieland Jazz Band from New Orleans had made the first jazz records in 1917 and claimed to have invented jazz. Soon afterwards this band toured the world with their 'creation' – setting in train a 'funny hat' style of white 'Dixieland' jazz culminating in such bands as The Fire House Five Plus Two in San Francisco in the 1940s. Similar commercial trends led to the peculiarly British and European 'trad boom' of the 1950s and 60s.

As the 1960s advanced, however, Dan's espousal of the 'purism' of Ken Colyer and first wave revivalism gave way to a concept of 'authenticity' that became clearer as second wave revivalism took hold. It became evident that the term 'revivalism' referred not to the 'revival' of New Orleans jazz, per se – but rather to the revival of interest in New Orleans jazz.

Following the arguments of writers such as the ethnomusicologist Sam Charters, the traditions associated with the origins of jazz in the late 19th century and early 20th century were understood to have 'flowered' in New Orleans in the late 1920s. These traditions were thought to have continued through the depression years of the 1930s in the dance halls and beer joints of New Orleans. They flourished again in the 1950s dance halls of New Orleans only coming under final threat with the popularity of rock 'n' roll, rhythm and blues, and the jukebox of the late 1950s. What Barry Martyn refers to as 'the end of the beginning' was understood to have begun with second wave revivalism of the early 1960s and to have continued throughout the 1960s before finally petering out as the 1970s and 1980s progressed.

For Dan, 'authenticity' presupposed working within this sixty year old developing tradition as he applied it to the developing scene in his local environment, initially in the environment of British jazz clubs and, later, in the context of British working men's social clubs and similar gigs. Increasingly, Dan placed the emphasis upon the 'functional' aspects of New Orleans music. Accordingly, in 1967 he formed the Silver Leaf Serenaders (with the same personnel as the Artesians) to play New Orleans style dance music and background music. For Silver Leaf Serenader gigs, he adopted what he called 'a purely functional approach' for jobs ranging from society parties and weddings through to some of the roughest social clubs and dance halls where the band often accompanied drunken singers. Meanwhile the Artesian Hall Stompers concentrated on the jazz gigs such as jazz clubs and riverboat shuffles.

It was primarily Dan's lengthy visit to New Orleans in 1964 that led his thinking in this 'functional' direction, a movement consolidated by his experiences in New Orleans in 1966. By the time of this his first trip to New Orleans in 1964, Dan had acquired a definitive collection of the recordings of what would prove to include almost all of the finest recordings of second wave revivalism – the Riversides, the Icons, the Monos, and so on. As these recordings permeated his very being, imperceptibly his thinking moved from a Bunk Johnson/Kid Howard/Kid Shots Madison-George Lewis sound to those of the rougher sounding neighbourhood New Orleans dance halls associated with the Kid Thomas Band and Billie and DeDe Pierce. On his 1964 trip to New Orleans, Dan studied under Punch Miller, DeDe Pierce, Kid Howard, Andy Anderson, Kid Sheik, and others. He 'sat in' with many of the old-style musicians and played for a time with Harold Dejan's Olympia Brass Band (performing for President Lyndon Johnson, no less!) and the Young Excelsior Brass Band. Dan had always liked rock'n'roll 'secretly', as he would later say – especially the music of Little Richard – and he found the rock'n'roll tinged trumpet playing of Milton Batiste's performances with Harold Dejan's Olympia Brass Band particularly inspirational in his developing thinking on so-called 'authenticity'. Dan increasingly came to emphasise the 'fusion' aspects of New Orleans music: 'There is a melting pot like a great big gumbo of different influences all held together by the second line beat which, in effect, is the key to it all.'

Fortuitously, at the end of 1964 Dan found himself in a position to reconstitute the Artesian Hall Stompers along the lines of his new thinking. Trombonist Dave Senior sets the scene:

'Hughie "the Butcher" Gerrard, had been playing with a band in Shrewsbury who were making waves. Hugh was a Kid Howard inspired trumpet player with a lot of flair. His ambition was to become a professional musician instead of cutting pork chops in Chester every day and so he set out to find musicians who wanted the same. At the end of 1964 he left the Shrewsbury band and suddenly appeared on the scene fully tooled up and ready to go, with the whole of the Artesian Hall Stompers . . . excluding Dan Pawson, that is. It was big news and certain people, not least myself' says Dave Senior 'saw the opportunity of joining Dan and the "new" Artesians.'

In July 1964, I had formed my first band – the Burgundy Street Stompers – around a bunch of young musicians who used to hang around Dan and 'sit in' with his band at the Warwick Castle, in Gosta Green, Aston. Paul 'Spud' Spedding (drums), Stefan Axon (trombone), and Derek T. Jones (bass) were regulars at the Warwick Castle. To these men, I added Bob Barton – a modernist pianist who I had introduced to New Orleans music a short while before. For a time we used clarinettist Mike Bradley who had more sophisticated musical pretensions. The band was short-lived. Spud, Stefan and Derek had all joined Dan's 'new' Artesian Hall Stompers by the beginning of 1965. Dan added Phil Wall on clarinet and Brain Helliwell on banjo and guitar. Stefan Axon was soon replaced by Dave Senior, who takes up the story:

'Dan set about knocking the band into shape with a determination that has left an impression on me to this day.'

Why did it have such an impact?

'Firstly, Dan's unwillingness to give up when he had just lost a great band that had been there for some years. Truthfully, he had to take a few steps sideways, if not backwards, to recover his musical status (band-wise). Luckily, we were all impressionable and therefore willing and ready to learn… Dan carried a sort of guru status. Secondly, well, I've just said it. Dan knew what he wanted from us and set about achieving it earnestly.'

Did he succeed?

'In my opinion he did, mainly because his perspective on jazz in general, and New Orleans jazz in particular, was clearly focussed. He did his best, actually succeeded, to impart this on the rest of us. Rehearsals, for example, were taken seriously. Every week we would get together in a pub room and work through the repertoire. Especially I remember the fact that Dan brought along his record player and a pile of records. First he would play a version he liked, which was usually but not exclusively from the revival period. Then, if appropriate, he would play an earlier, perhaps the original, version for us to compare. He would point out the strengths and weaknesses, the charms or blemishes of one or the other, before we honed our own version.'

So copying was avoided?

'It was. Except if he thought a lick was worth the effort he said so. I remember practising some choruses that definitely contained bum notes that Dan thought worth doing. I followed because it was mostly good advice and I was so eager to learn.'

What would it sound like?

'The result could be compared to a typically rough sounding neighbourhood band similar in concept to the Kid Thomas band of New Orleans at that very time. So, as far as copying other bands was concerned, we didn't set our sights on that… but we had our role models.'

The new band soon attracted an enthusiastic following. One such devotee was Rob 'The Raver' Ridley who loved the music so much that he bought a 'reel to reel' tape machine with the sole purpose of recording Dan's music. Between 1965 and 1973 Rob recorded and archived over thirty hours of Dan's sessions. The two 1966 sessions on this CD are taken from Rob's collection and represent the band in its final stage of flowering, shortly before Dan gave up his attempts to hire a regular old-style clarinettist. The sessions were transitional in other ways, too. Interestingly, clarinettist Dick Bridges who played with the Artesians from June-December 1966 wrote to Dan in his 'resignation' letter:

'I will end now by saying that the change of attitude towards music which you hoped for in me did not come about. In my book Messrs George Lewis and Ken Colyer are still the kings and Kid Thomas remains as he was, by comparison a pauper. Yours faithfully, Richard Bridges.'

Such was the nature of the times!

On these 1966 tracks featured on this CD, Dan is at his most driving, his most inventive and his 'exuberant-but-disciplined' best. Just listen to his lead on 'There's Yes! Yes! in Your Eyes', for instance. It is a masterful illustration of old-style New Orleans trumpet playing at its best. Both of the 1966 sessions feature the opening and early numbers played during each of the live club evenings. I was present at both of them. The opening numbers of these regular Thursday residency sessions of the Delta Jazz Club – in this case at the Cambridge Inn, Birmingham – always had special qualities that I found particularly enjoyable. A core of the band's followers would always arrive well before the start of the first set. There were the 'meetings and greetings' between these larger than life characters and the preliminary drinks. There was the buzz and anticipation of good things to come. Dan would always kick off the first set with his trademark loud foot stamp – and we were away! These opening numbers were usually notably fresh, well structured and purposeful. Moreover, the setting was especially intimate with the band playing for themselves, their most enthusiastic fans, and the few first timers who had stumbled across the club early in the evening. Later, as the evening wore on, larger crowds, 'good-timing' and alcohol inevitably changed the nature of the proceedings, somewhat.

In many regards, Dan always remained a 'neighbourhood' musician and, in consequence, the Artesian Hall Stompers always remained a neighbourhood band, albeit one of the few such bands in the UK playing New Orleans-style music with such authenticity and longevity. 'B' Minter's Gothic Jazz Band, perhaps, were the nearest equivalent of the London-based bands. That is not to say Dan and the Artesians did not acquire a national reputation, however. Within a couple of years of their formation, for instance, they secured a monthly residency at the all-night sessions held at Ken Colyer's Studio 51 club, off London's Leicester Square. Moreover, Dan's on-stage personality and off-stage antics – as well as his intensity and dedication in regard to his music – always set him apart for special attention. Quite soon, in the 1960s, the Artesians were 'making waves' elsewhere round London, and in Wales and the North of England. However, it always seemed to me that Dan was at his most comfortable and relaxed when he was leading his own band of local buddies around Birmingham, a number of whom – like Paul 'Spud' Spedding and Stan Stephens – remained with Dan, on and off, over a life time.

By the time these 1966 sessions were recorded, Dan's reputation in the New Orleans jazz scene in Britain was rapidly growing. When Cuff Billet vacated the trumpet chair that he had held for so long with Barry Martyn's band, the foremost New Orleans-style band of the time, Barry chose Dan as Cuff's replacement. The two 1967 sets on this CD document Dan's brief eight month period with the Martyn band – here accompanying Louis Nelson, the great trombonist from New Orleans. Dan forged a friendship with Mr Nelson during Nelson's 1967 tour of Europe that would last a lifetime. It was a friendship that would culminate in what Dan always regarded as his greatest honour – being asked by Louis Nelson to lead a New Orleans All-Star Band from the USA during their 1988 tour of Switzerland and Germany. In addition to Nelson, the band included such luminaries as Danny Barker – one of Louis Armstrong's and Cab Calloway's guitarists; 88 year old bassist Chester Zardis who had recorded with Bunk Johnson on the 1942 Jazz Information session at Radio Station WSMB, New Orleans; and Jimmy Dorsey's sideman, Pud Brown.

Throughout Dan's period with the Barry Martyn band, he never disbanded his Artesian Hall Stompers or, for that matter, his Silver Leaf Serenaders. Following clarinettist Dick Bridges' departure at the end of 1966, Dan's former trombonist Stan Stephens returned to the band on alto saxophone. This gave the band a quite different sound and both the Artesians and the Silver Leaf Serenaders moved further towards a relaxed New Orleans 1950s dance-hall type style. A few years later, when trombonist Dave Senior left Dan – to join the Chris Burke Band in Nottingham – Stan was able to return to the trombone chair, a period documented in the final session on this CD.

While Dan had recorded with both Harold Dejan and Louis Nelson, no record company had ever recorded Dan with his own bands – they were simply not regarded as a commercially viable proposition. I had no interest whatsoever in the 'commercially viable' and determined, in 1971, to record Dan with his Artesian Hall Stompers for my La Croix label. It was to turn out to be the swan song of my vinyl output for La Croix records.

The musical direction taken by the Silver Leaf Serenaders had by now percolated into the Artesians. Dan was more frequently using quartets – usually a front line of trumpet and trombone with a two piece rhythm section. Elsewhere, I have written of two defining moments in my understanding and enjoyment of old-style New Orleans jazz – first hearing the Bunk Johnson Band, 1945 Decca sides, and later hearing the 1954 Folkways/Topic track of the Kid Thomas Band playing 'Anytime' at the Moulin Rouge, New Orleans. A third such moment was the first time I heard Billie and DeDe Pierce's Band's 'Big Mamou' recorded at Luthjen's, New Orleans, 1954. This Folkways/Topic recording featured a quartet comprising Billie Pierce (piano), DeDe Pierce (trumpet), Harrison Brazlee (trombone) and the great Albert Jiles (drums). Dan loved this recording as much as I did. Fittingly, Dan went on to create some of his most sensitive and tasteful music in his quartets with a trumpet-trombone front line, most notably with Stan Stephens on trombone.

At the time of the 1971 recording featured on this CD, pianist Bob Barton had been playing with Dan for several years and George 'Spock' Morgan had recently joined Dan on alto saxophone. However, Dan and I decided to stick to the Billie and DeDe 'Luthjen's' format for the recording session and Spock did not play on this occasion. The session acquired something of a cult status when a part of it was released on La Croix LP7.

A projected La Croix LP8 was to have featured another set from this 1971 recording session, but by the time of its likely release I had moved on to other things and the record never materialised. When I returned to the New Orleans scene over twenty-five years later, it was a particular pleasure to learn how highly regarded the La Croix LP7 session had become in informed quarters. Belgian jazz critic Jempi De Donder was referring to it as 'one of my favourite records'. New Orleans musicians of the acuity and stature of Chris Burke were saying much the same thing.

When Dave Senior sent a selection of Rob Ridley's Dan sessions (1966-1968) for Jempi's considered opinion, Jempi wrote in The Jazz Gazette:

'I know as long as you are not able to listen to these recordings it will be difficult for you to fully understand our enthusiasm for these recordings and the musicians playing. Maybe, our reviews might convince more people to listen to these recordings and help them decide to issue some of them. I went through the Dan Pawson Discography that Raymond Lee compiled and I noticed that there are several records with Dan present but only a few from his own band. The only one, and it is one of my favourite records, is the La Croix LP7 that was recorded on November 28, 1971 and is called Dan Pawson's Artesian Hall Band. If I remember correctly, the La Croix label recordings are now owned by George Buck. So Barry [Martyn] why not reissue that one combined with some of the better tracks from these recordings?'

Well, I am glad to say that these La Croix label recordings are not in fact owned by George Buck and that, thanks to this co-production with 504 Records, it is now possible for me to grant Jempi's wish. It has given me a particular thrill to produce this CD – the first of a series of tributes to Dan Pawson.

When Sigmund Freud published his Interpretation of Dreams (1900), it was not well received and sold few copies for many years. Freud, himself, always regarded it as his most important work and, later, of course, the book went on to become a best seller of momentous impact. It is in the nature of old-style New Orleans music that it will always be of only specialist interest. To many, of course, that is part of its appeal. However, it is extremely gratifying – a wish realised, a dream come true! – to find that some forty years after a neighbourhood musician from Birmingham, England, cut his first La Croix recordings with his own band, there are those who rate these recordings as amongst the finest within the old-style New Orleans tradition.

Barry Martyn – drummer, bandleader, record producer, impresario, and 'demigod' of New Orleans music – could not have made the essential point better when he said in 1972:

'The goal I have always aimed for is to be identified with the New Orleans hierarchy. There are few musicians in Britain who can be seriously identified with the hierarchy. Dan Pawson is one, and for my money he's the top trumpet player here. I used to disagree with Dan, but not now. The average New Orleans band in this country can't play a rumba, and they don't know the difference between a quickstep and a foxtrot. Dan realises that people want to dance sometimes, and it is important to remember that New Orleans music is music for dancing.'
Enjoy!
Special thanks are due to Spencer Pawson for giving me access to the 'Dan Pawson Collection' and for clarifying a number of points; to Rob Ridley for permission to use his recordings of the 1966 sessions and to Dave Senior for bringing them to my attention. For sources, see Raymond Lee, Dan Pawson Discography, 2001, Zwolle, Netherlands: Gerard Bielderman; 'Dan Pawson', in John Chilton (ed.) Who's Who of British Jazz, 2nd ed., 2004, London: Continuum, pp. 274-275; William Carter, Preservation Hall: Music From the Heart, 1991, New York: W.W. Norton; 'Barry Martyn at Large', Footnote 3 (3), 1972, pp. 16-23; Dave Senior, 'Dan Pawson's ARTESIAN HALL STOMPERS in the 60's – The Forgotten Recordings'; and Jempi De Donder, 'Some Words on these Recordings', Jazz Gazette (http://thejazzgazette.be/december2003.htm). ­