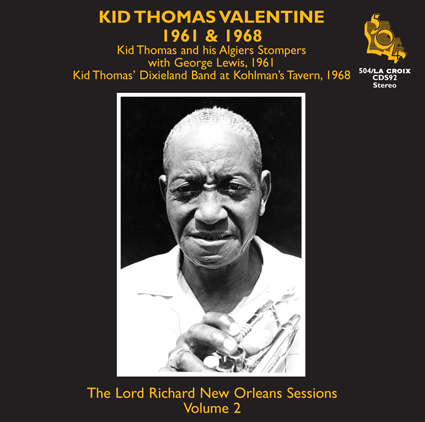 1.   China Boy*
2.   Indiana*
3.   Just A Closer Walk with Thee*
4.   I Can't Escape*
5.   Anytime
6.   I Love You So Much It Hurts
7.   Rum and Coca-Cola
8.   Blues for La Croix
9.   Say Si Si*
10. The Object of My Affection
11. Pretend
12. It's a Sin to Tell a Lie
13. Tom Valentine's Tune
14. When We Danced at the Mardi Gras
15. I'll See You in My Dreams
*Previously unissued
1-4 Kid Thomas and his Algiers Stompers
Kid Thomas Valentine – trumpet, slapstick, tambourine, maracas, Louis Nelson – trombone
Emanuel Paul – tenor saxophone, George Lewis – clarinet, Joe James – piano
Creole George Guesnon – banjo, Joseph 'Kid Twat' Butler – string bass, vocal
Sammy Penn – drums
Recorded at Preservation Hall, New Orleans, 12th November 1961.
5-15 Kid Thomas' Dixieland Band
As above, without George Lewis and Creole George Guesnon, Charlie Hamilton replaces Joe James on piano
Recorded at Kohlman's Tavern, Algiers, New Orleans, 1st June 1968.
The two sessions featured on this CD are two of the most significant recordings of the Kid Thomas Band in existence. The first session – Kid Thomas at Preservation Hall, 1961 – is the earliest known recording of the Kid Thomas Band at Preservation Hall. A small part of the session was included in 'David Brinkley's Journal' for NBC-TV in early 1962. The recording was not intended for release and as a result only 'China Boy' was recorded in its entirety. Nevertheless, despite the two fade-ins and one fade-out, the substance and spirit of the session is intact. The second session features the La Croix 'last dance hall session' recorded in 1968 at Kohlman's Tavern, Algiers, New Orleans, by Lord Richard and Clive Wilson for La Croix Records.

With each re-writing of the history of early jazz and the New Orleans jazz revival, the Kid Thomas Band gains in stature and prominence. Between them, the three flagship bands of Bunk Johnson, George Lewis and Kid Thomas span virtually the entire history of 'old-style' New Orleans jazz and its revival. Indeed, in terms of authenticity, longevity and contemporary significance, the Kid Thomas Band may legitimately claim to be the most significant of all the old-style New Orleans bands.

The 1940s and 50s first-wave revival of New Orleans jazz produced just two flagship bands. The Bunk Johnson Band recordings made between 1942 and 1946 set the initial parameters for so-called 'authentic' old-style New Orleans jazz. Indeed, the sides cut for Bill Russell's American Music record label – particularly those recorded in 1944 – provided what remain to this day, to many, the definitive recordings of the entire history of the New Orleans revival.

Interestingly, Bunk soon tired of what he came to call his 'emergency band' – the group formed around George Lewis – and by the end of 1945 the writing was on the wall for Bunk's New Orleans Band. Increasingly, Bunk turned to more sophisticated, often non-New Orleans musicians and, in any event, was to die quite soon, on 7 July 1949.

Following Bunk's death, George Lewis eventually replaced Bunk with Avery 'Kid' Howard on trumpet. Back in 1943, Howard had taken Bunk's place for the brilliant Climax recordings and expectations for the new band must have been high. From around 1953 onwards, the George Lewis Band established itself as the premier New Orleans touring band and by the end of the decade had attracted a worldwide following. For many, the band with Kid Howard, at his best, surpassed even Bunk's band in the genius of its 'ensemble polyphony'. Many others, however, detected a slow decline in the band's performances as the demands of touring and concert audiences led to a loss of spontaneity and creative edge. In particular, the white spectator audiences' preferences for a limited repertoire and 'race horse' tempos inevitably led to the emergence of a 'concert hall style' quite different from the Lewis Band's earlier sessions in New Orleans. It must be said, too, that as the 1950s advanced, Lewis's health was often poor and Howard often had lip trouble.

Around September 1961, following his last trip to Cincinnati, Lewis finally gave up the attempts to maintain a regular touring band. At the beginning of the 1960s, there was little or no work for old-style jazz musicians in New Orleans and Lewis must have thought he was coming home to a bleak musical future. Little did he realise that while he was playing in Cincinnati, second-wave New Orleans revivalism was taking root back in New Orleans with the opening of the old-style jazz venue, Preservation Hall, a naming claimed by no less that Alcide 'Slow Drag' Pavageau, bass player with both the Bunk Johnson and George Lewis Bands.

Lewis, as the doyen of all the New Orleans old-style clarinet players, must have had the pick of the bands with whom he could play at Preservation Hall. Most of the bands that played at the Hall in its early days had only just been formed as outgrowths of the Riverside recordings made in New Orleans in January 1961, or were formed a short while later especially to play at Preservation Hall. Indeed, when the Hall opened in June 1961, only Peter Bocage and Kid Thomas could claim the distinction of still leading first-rate long time working old-style New Orleans dance hall bands.

The Kid Thomas Band described by ethnomusicologist Sam Charters in 1958 as 'the hottest band in the city', soon emerged as the flagship band of second-wave revivalism. Kid Thomas's first recording was for Bill Russell's American Music label back in 1951. Kid Thomas had long favoured using a saxophonist instead of a clarinettist in his regular band, but Russell disliked saxophones in New Orleans bands. Rather than risk offending Russell, or Thomas's regular band, the producers of the session – Alden Ashforth and David Wyckoff – decided to select an entirely new pick-up group without a saxophone but based around the preferences of Kid Thomas and the great New Orleans clarinettist Emile Barnes. Barnes had often played with Kid Thomas but was never a formal band member. In consequence, it was not until Mike Slatter's 1959 semi-documentary recording of the Thomas Band was released in the early 1960s that the full force of Kid Thomas's regular band hit jazz enthusiasts beyond New Orleans to Europe and further afield. By this time, second-wave revivalism was in full swing. Ken Mills' Icon label had been launched and Barry Martyn had begun his vital work of documenting the lesser-known non-Union musicians of New Orleans for his Mono label.

As work for old-style jazz musicians was drying up in the dance halls of New Orleans throughout the latter part of the 1950s, the Kid Thomas Band soon became the mainstay of the informal 'kitty sessions' held at Larry Borenstein's Associated Artists Studio at 726, St. Peter Street, in the French Quarter (later Preservation Hall) from around 1956 onwards. According to Borenstein, his evening work at his gallery prevented his visiting the Thomas band playing dance hall gigs at the Moulin Rouge on the West Bank of the Mississippi, so he got the Thomas Band to come to him. No doubt, Thomas, sensing that regular work in the neighbourhood dance halls would soon be a thing of the past, saw the kitty sessions as a way of keeping his band together as a working unit, while looking for further work. A number of these Kid Thomas 'kitty sessions' were recorded informally by Borenstein and are now available on 504 Records by arrangement with Sacha Borenstein Clay. They give a good indication of what the Kid Thomas Band must have sounded like in the dance halls at the time. Noteworthy, is that Thomas later claimed to have been more influential than any other musician in the transition from the pre-Preservation Hall sessions to the opening of Preservation Hall as a regular source of employment for the old-timers.

By the end of 1961, news of the sessions at Preservation Hall was percolating outside the city. One event, more than any other, led to the publicising of Preservation Hall nationwide. That event was David Brinkley's visit to New Orleans in late 1961 to document the jazz being played in the city for his 'David Brinkley's Journal' broadcast on NBC-TV. Brinkley recorded the Kid Thomas Band with George Lewis on 12th November 1961 at Preservation Hall. All four tunes recorded on that day are on this CD, including one of the two takes recorded of 'Just a Closer Walk with Thee' – an exceedingly rare example of George Lewis and Emanuel Paul duetting on clarinets. Moreover, if the discographers are right, this is the only time George Lewis ever recorded 'China Boy'.

Ken Mills, the Hall's originator, very early on became concerned about the amount of 'brilliance going into the ether', as he put it, and planned various ways of recording 'now' with a view to paying the musicians 'later'. A previous semi-illicit attempt by Ken Mills to record a live Preservation Hall session featuring the Kid Thomas Band with George Lewis had come to nothing when drummer Sammy Penn had stumbled across the recording equipment during a break. We are fortunate, indeed, that this 'official' Brinkley recording has survived and can be included on this CD.

Clive Wilson, reminiscing about his visits to Preservation Hall between 1965 and 1971, imagined what it must have been like to have heard the music in the early 1960s, when the Hall opened: 'Judging by the gradual, almost imperceptible, loss of spirit and spontaneity in the music (with one or two exceptions) I heard over the period, I can well imagine how inspiring it must have been to have visited New Orleans in 1961 when Preservation Hall first opened, and later the short-lived Icon Hall and Perseverance Hall. But I count myself lucky to have heard as much as I did.'

This CD celebrates some of those spirited and 'inspiring' sounds of early Preservation Hall. For drive and explosive excitement this live 1961 session surely ranks as one of the great Thomas legacies.

Kid Thomas Valentine was born on 3rd February 1896 in Reserve, Louisiana, a small plantation settlement in St John's parish some thirty miles upriver from New Orleans. At the age of ten he began to play the valve trombone. Soon afterwards his father gave him a trumpet and he played by ear until he came to New Orleans in 1922 to study music under Professor Manuel Manetta of Algiers. He played with Elton Theodore's Band from around 1923 to 1925 in the dance halls around Algiers. According to Graham Russell:

'They played all the popular venues of the time on the Algiers side – Lee's Pavilion, Turtle Back, Hope Hall. One night there was trouble over a band contest. The judges had given the prize to the leader of the other outfit, Henry 'Red' Allen, but the crowd favoured Thomas. Thomas fetched a policeman. He got the prize in the end but lost popularity with the local crowd and began seeking work in New Orleans. Thomas had taken over from Theodore by this time and for most of the next ten years the band furnished dance music for some of the city's best hotels.'

All the evidence suggests that Thomas fashioned his unique trumpet style in the early decades of the century – soon after the birth of jazz – and it remained largely unchanged until his death on 18th June 1987. The same was true, no doubt, of his 'rough house groove' way of leading a band that started in the mid-1920s when he took over the leadership of Elton Theodore's band. His searing, elemental playing creates the perfect foil for his front line instruments and functions as 'rhythmic agitator' for the whole band. Unusually, for a New Orleans trumpeter of his period, he was totally uninfluenced by Louis Armstrong. Nor was he in the ranks of those many old-style trumpet players that were influenced by Chris Kelly or Buddy Petit.

1936 saw Thomas working over on the Algiers side of the river again, and his long association with club promoter 'Specks' Rodriguez began. Sammy Penn, Joe James, Emanuel Paul, and Louis Nelson all joined him during this period. First-wave revivalism of the 1940s and 50s largely bypassed the Kid Thomas Band. Throughout this period the band continued playing mostly for white dancers, many of who were Louisiana French, in such dance halls as the Moulin Rouge in Marrero, the Tip Top Pavilion in Marrero, and the Old Fireman's Hall in Westwego. Emanuel Paul left the band for a period in the 1950s but was back by the end of the decade.

Preservation Hall opened shortly after the band lost its last regular dance hall job at the Tip Top Pavilion. As the 1960s advanced, recording sessions and concert gigs, supplementing regular Preservation Hall work, gradually subsumed the 'playing for dancing' tradition that had been the lifeblood of old-style jazz from its very beginnings. In the spring of 1966, the Kid Thomas Band played four or five gigs at the Old Fireman's Hall in Westwego, and was then replaced by a country and western band. It was probably the last time a black old-style jazz band ever played for dancing in a neighbourhood dance hall.

Alas, I missed these gigs at the Old Fireman's Hall by some two months, my first trip to New Orleans being in the July and August of 1966. Clive Wilson was there, however, for three of the evenings and noted that Thomas had used Ernest Roubleau on amplified guitar in addition to his regular band. Interestingly, Thomas had put up his old sign that read 'Kid Thomas Dixieland Band'. In the early years at Preservation Hall, the band was billed as 'Kid Thomas and his Algiers Stompers', a name provided by Bill Russell and adopted for the Riverside releases. For Thomas, of course, it was 'the same old soup bone'. Fittingly, when a 'purist' jazz fan told Thomas that Thomas's band did not play 'dixieland' jazz, Thomas obliged him by removing the offending word from his sign!

The DeDe Pierce and Kid Thomas Bands had provided the highlights of my 1966 trip to New Orleans. I had a particular liking for DeDe's playing and he had made very few band recordings at that time. So when I returned to New Orleans in the May of 1968, set to record the finest of the old-style music still being played in the city, it was DeDe Pierce who topped my wish list of possible recording sessions. My funds were insufficient to pay for a full band at Union rate, and I was planning a quartet around DeDe, possibly with Paul 'Polo' Barnes on clarinet. DeDe was happy about that and we got as far as discussing his preferred drummer – Alex Bigard. However, it transpired that Allan Jaffe, then managing Preservation Hall and the Preservation Hall touring bands, had negotiated an exclusive deal with Pierce. DeDe felt unable to record without Jaffe's permission and Jaffe was resolute in withholding that permission.

As I was talking this over with Clive Wilson, Clive raised the possibility of my recording the full Thomas band. I suggested that we each put up half the money for a session to be released on my La Croix label. In addition, I released on La Croix, Clive's fine 'Louis James Feetwarmers' 1967 session, which included Andrew Morgan and Earl Humphrey, both very important figures in the history of the music. Our Kid Thomas recording was a collaborative enterprise. We both had the same agenda, namely, to record a session that harked back to Kid Thomas's dance hall days; to a sound that was fast becoming history. It was that 1968 session that this CD features.

My interest in New Orleans music having been first ignited by the Bunk Johnson Band, got its second wind when I first heard Sam Charters' Folkways 'Music of the Dance Halls' album on Topic, in the early 1960s. This album featured just one track by the Kid Thomas Band – Thomas playing the number 'Anytime' at the Moulin Rouge in 1954 with Ruben Roddy on alto sax. It was a revelation to me.

Charlie DeVore, the most authoritative writer on Kid Thomas, gives the flavour of what it must have been like to have heard the Thomas band live at a 1950s dance hall session:

'It was the loudest trumpet playing, and here I was standing at the back and that trumpet was cutting through everything . . . Then we sat down and listened all night, and it was like nothing I'd ever heard before in my life. I mean, I thought New Orleans jazz was "Dippermouth Blues" and "High Society". But, by golly, here's a band that made a career out of playing "Green Eyes". That wasn't even a jazz beat. I really didn't know what to make of it. Here was a trombonist getting up there and playing the melody more than the trumpet, the trumpet going blat, blat blat behind the trombone beat, and, off in the background, a kind of wistful sound of a saxophone [Ed Washington] and piano player [Joe James]. They had the wildest drummer [Sammy Penn] I ever heard in my life and the bass player [Burke Stevenson] was very, very strong.'

A number of enthusiasts such as Richard B. Allen, John Bernard, and Herbert Otto had occasionally made informal recordings in the New Orleans dance halls during the 1940s and 50s. With the advance of second-wave revivalism in the 60s, specialist record labels, most notably, Center and Mono, began to issue some of these sessions. They became seminal in the development of New Orleans-style music outside of New Orleans, particularly in Britain. For Kid Thomas, these recordings documented his best times: 'I loves to play for dancing. It puts good in you and you feel better.' 'It was kicks, man.'

Kohlman's Tavern, in the original section of Algiers, was a dance hall that regularly hired the Thomas band in those 'dance hall days', and Clive and I thought it would make an ideal venue for our session. The Tavern owner, Louis Kohlman, a long-time friend of the band, liked the idea. I discussed with trombonist Louis Nelson our 'dance hall' preferences. Clive did likewise with Thomas.

Looking back on that 1968 session now, it might have been even better if we had arranged for the admittance of local Algerine dancers. Thomas, famously, never really got used to a seated audience staring at him. Modern day researchers on 'the tourist gaze' would have been fascinated by his thoughts on the matter. Referring to the Preservation Hall audience who would sit down, stare for a twenty minute set, and move on to stare at something else – after taking endless photographs, of course – Thomas once said: 'Used to be people had a ball, I still try to give them a good time. Here the people just sit around and stare at you. People don't understand this music at first. It takes awhile to get the idea. But once you get the idea, you want to stay all night.'

The dance hall session on this CD kicks off with 'Anytime', in homage to the 1954 Moulin Rouge rendition of the same number released on Topic. Thomas enjoyed playing hillbilly tunes for dancing. The second track of this session 'I love you so much it hurts' had been a country hit for Jerry Lee Lewis in the 1950s and for Ray Charles in the 1960s. It had long been a favourite of mine. Thomas's trumpet playing was a little hesitant on the early takes of this number. With this track in the can, however, the whole of the rest of the session went swimmingly. Thomas was happy to oblige our requests for further takes of tunes even when previous takes were excellent. The band knew they were in no danger of being over-produced. We were all enthusiasts of the functional dance hall sound and it had long been Thomas's practice to repeat tunes that had gone down particularly well with the dancers.

In consequence, La Croix had enough material to issue La Croix LPs 4 and 5 in 1969 and to make available nine tracks for the exclusive use of Clive Wilson and Paige van Vorst in 1972 for their New Orleans Records LP release in the USA. A UK NOLA lease release followed in 1977. This latter LP included four previously unissued takes from the session. Say Si Si #1 was never issued because of a slight tape fault. Digital technology has enabled Charlie Crump to resolve the tape problem and the track is issued for the first time on this CD. The rest of the session is a compilation taken from La Croix LP5 and NOLA LP15(S) with one track ('Anytime') taken from La Croix LP4.

Louis Nelson summed things up with characteristic brevity as he walked out of Kohlman's Tavern at the end of the recording: 'Good session, boy!'

Richard B. Allen, then Curator of the New Orleans Jazz Archive at Tulane University, New Orleans, elaborated on the essential point a few years later: 'These things [the use of Thomas's regular men and of Kohlman's Tavern] and the choice of tunes made for a down-home sound which, in my opinion, recaptures the true dance hall flavor. It shows the proper respect for a major figure in the New Orleans revival and a unique band. There will never be another like it.'
Enjoy!
Thanks are due to Dion Cochrane for bringing the David Brinkley broadcast to my attention, and to Dion Cochrane and Clive Wilson for clarifying a number of points. For sources, see: William Carter, Preservation Hall: Music from the Heart, 1991, New York: W.W. Norton & Company; Charlie DeVore, 'Kid Thomas Band at the Tip Top', Charlie DeVore interviewed by William Schafer and Butch Thompson for The Mississippi Rag, December, 1998; Charlie DeVore, 'The True New Orleans Sound of Kid Thomas Valentine', The Mississippi Rag, February, 1974; Graham Russell, 'A New Orleans Jazz Concert with Kid Thomas and Emanuel Paul: Programme Notes', The National Jazz Federation – in Association with Barry Martyn, 1964; and Clive Wilson, 'Listen to it All: The Dance Halls', New Orleans Music, 6 (1), 1996, pp. 15-17.