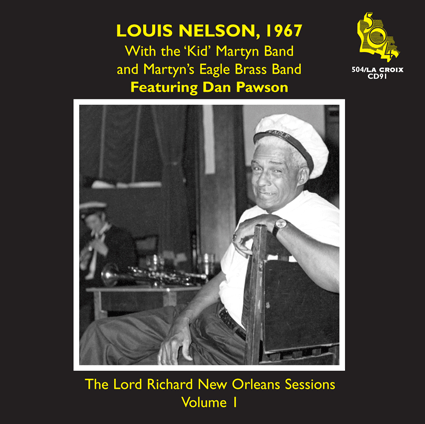 1.   When My Dream Boat Comes Home
2.   September in the Rain
3.   Moonlight Bay
4.   Sweet Adeline
5.   Deep in the Heart of Texas*
6.   Smoke Gets in Your Eyes*
7.   Yes Sir, That's My Baby*
8.   Danny Boy*
9.   Peg O' My Heart
10. Deep Purple
11. Lara's Theme
12. Darktown Stutters Ball
13. In the Upper Garden
14. West Lawn Dirge
15. Lord, Lord, Lord, You've Sure Been Good
      to Me
16. Down in Honky Tonk Town
17. Abide with Me*
18. It's Only a Shanty in Old Shanty Town*
19. 452
20. Nearer My God to Thee
21. Bluebells Goodbye
22. It's a Long Way to Tipperary
23. St. Louis Blues
* Previously unissued
1-12 The 'Kid' Martyn Band
Louis Nelson – trombone, Dan Pawson – trumpet, violin, Bill Greenow – clarinet, alto saxophone
Richard Simmons – piano, Brian Turnock – string bass, Barry 'Kid' Martyn – drums, leader
Recorded at The White Horse, Willesden, London, 25th June 1967.
13-23 Martyn's Eagle Brass Band, Louis Nelson - trombone, Mike Casimir – trombone
Jim Young – brass bass, Dick Douthwaite – Eb clarinet, John Defferary – tenor saxophone
Bill Greenow – alto saxophone, Dan Pawson – trumpet, Tony O'Sullivan – trumpet,
'K' Minter – snare drum, Barry 'Kid' Martyn – bass drum, leader
Recorded at The White Horse, Willesden, London, 4th July 1967.
Louis Nelson, the trombonist, was born in New Orleans on 17th September 1902 and died on 5th April 1990 from injuries sustained in a hit and run car accident in New Orleans. Nelson was the last living 'old style' New Orleans trombonist, from New Orleans. He was also the only trombonist to play a central role in each of the three phases of New Orleans revivalist music.

First wave New Orleans jazz revivalism started in Aug 1940 with the recording of Henry 'Kid' Rena's Jazz Band in New Orleans, and had largely petered out by the end of the 1950s. This first phase of the revival saw the recording of a cluster of 'old style' New Orleans trombonists, most notably Jim Robinson, Albert Warner, Louis Nelson, Harrison Barnes, and Harrison Brazlee. Jim Robinson and Louis Nelson were to emerge as the most influential. 'Big' Jim Robinson's recordings with Bunk Johnson and George Lewis ensured Robinson's prominence during the first wave of the revival. Louis Nelson, however, made a number of fine recordings for Bill Russell's American Music label in 1949, featuring as the trombonist with the 'Wooden' Joe Nicholas Band, the Original Creole Stompers, and the 'Big Eye' Louis Delisle Band. In particular, his residency with the Kid Thomas Band - which started in 1944 and was to continue until Thomas's death in 1987 - laid the groundwork for his emerging prominence in the second wave of New Orleans jazz revivalism. Informal recordings of Nelson with the Kid Thomas Band made in 1954 and circa 1957, now available on American Music and 504, rank amongst the finest recordings of New Orleans music ever made.

It was the opening of Preservation Hall in New Orleans on the 13th of June 1961 that marked the beginning of the second wave of the New Orleans jazz revival. The Kid Thomas Band - with Louis Nelson on trombone - was to work the Hall for over two decades and Nelson's reputation advanced with each passing year. The opening of Preservation Hall, together with the Icon and Riverside recordings documenting this 'second wave' revival, created an international demand for the music that led to an increasing number of worldwide tours for many of the Preservation Hall musicians. From the outset, Louis Nelson was an enthusiastic traveller. Jim Robinson did not like flying and this left the field open for Nelson who soon became the most travelled and recorded of all the New Orleans 'old style' trombonists. Nelson first toured Japan with the George Lewis All Stars in 1963. Further Japanese visits with the George Lewis band followed in 1964 and 1965. In 1966 he toured Europe with Barry 'Kid' Martyn, the first of many such tours.

By the end of the 1970's, few 'old style' musicians from New Orleans were alive. Of the trombonists, Jim Robinson died in 1976, followed a year later by the great Eddie Summers in 1977. Second wave revivalism gave way to third wave revivalism as the 1980s advanced - what might be termed 'post-revivalist' New Orleans music. This was the period when those (mostly European) white musicians who had learned their trade from the great 'old style' black New Orleans musicians in the 1960s and 1970s, as youngsters, emerged to play the major role in keeping alive the last remnants of the 'old style'. Once again, it was Louis Nelson who was prominent in this third phase. His extensive travels and his enthusiasm for encouraging younger musicians all over the world ensured his increasing significance right up until his death in 1990.

The recordings of the first wave of the New Orleans jazz revival had produced many emulators in Europe and elsewhere. Ken Colyer's Jazzmen set the standard for all others to follow in the 1950s. As the second wave of the New Orleans revival took root in Europe and the Far East in the 1960s, however, it was the 'Kid' Martyn Band that increasingly gained pre-eminence amongst all those many scores of New Orleans-style bands playing outside of New Orleans. Martyn's project entailed documenting the lesser known and previously unrecorded 'old style' musicians of New Orleans for his Mono label; touring and recording with many of the Preservation Hall musicians; and leading a series of his own bands dedicated to the dissemination of his project.

Martyn was to lead many bands. Most of the talented young white musicians who had absorbed the 'old style' played with him at one time or another. In my view, however, it was the 'interim' dance band featured on this CD that is the most intriguing and enjoyable of all the Martyn bands. The band was formed in January 1967 and only lasted until the following August. Its distinctive feature is the presence of trumpeter Dan Pawson, a New Orleans devotee who led the Artesian Hall Stompers in Birmingham, England from the band's inception in February 1960 right up until Pawson's death in 2002.

The trumpet players hired by Barry Martyn varied enormously. For sure, Dan Pawson does not provide the unadulterated manic excitement of a Clive Blackmore, or the engaging constant creativity of a Cuff Billett; still less, does Dan provide the cerebral certainty of a Clive Wilson - to name just three trumpeters associated with the 'Kid' Martyn Band. Paradoxically, however, Pawson provides a unique and tempered mix of all these things and in so doing, imposes a particular stamp on the Martyn band that was never to be repeated. In particular, the front line polyphony of Dan Pawson, Bill Greenow and Louis Nelson deserves especial mention for its superb rhythmic qualities, exemplifying as it does Bill Russell's point that, in New Orleans style jazz, ALL the band makes up the rhythm section.

The sessions featured on this CD are the only two 'official' recording sessions made of Dan Pawson while he was a member of Barry Martyn's dance band. The touring dance band dissolved some two months after this recording was made. The London-based Brass Band was more in the nature of a 'pick up' band formed especially for the recording session. Apart from one or two illicitly made unreleased live recordings (I have a couple) and a number of alternate tunes and takes from the two sessions featured on this CD, you now have in your hands the sum total of the recorded output of these two 'interim' bands.

I say 'official', but in point of fact, these sessions were in a sense 'semi-official'. Certainly, I produced them with the approval and backing of Barry, himself. For sure, Louis Nelson agreed to the recording. However, 'officially' Louis Nelson was not on tour with Martyn when these recordings were made. Nelson was 'on holiday'. Musicians' Union rules debarred him from playing in the UK. He was billed as an unnamed 'guest' at the various gigs that featured him in the UK. In consequence, the original LPs issued from these sessions in 1967 – La Croix 1 and 2 – did not include details of recording date or venue. Theoretically, they might have been recorded in Belgium, the first location of the 'official' tour that followed Nelson's 'holiday' in Britain.

In fact, both sessions were recorded in a large hall at the White Horse, Willesden, London. The hall had something of the acoustics of a New Orleans dance hall. The dance band session was recorded on 16th June 1967 and the brass band session on 4th July 1967, a few weeks after Louis Nelson had arrived in Birmingham to be met by Dan Pawson's Tulane Brass Band. My principal aim was to record Dan while he was with the Martyn band in the company of arguably the finest 'old-style' New Orleans trombonist alive at the time. I suspected (rightly) that if I did not do this, nobody else would. A subsidiary aim was to launch the La Croix record label in readiness for the La Croix recording sessions in New Orleans that I was planning for the following year in 1968.

The sessions could hardly have turned out better. As Nelson once said: 'Concentration is part of a crucial equation a jazz musician uses each time he plays. The second part is heart. You focus your mind on the horn, then play from your heart. And that's all you need.' These sentiments are exemplified on this CD. Nelson was in fine form and was pleased, indeed, with the recordings. Nelson was particularly pleased that I featured his photo – and his photo alone – on the front covers of both La Croix LP1 and LP2. This was the first time this had happened. Touchingly, he wrote to me from his home in New Orleans on 4th April 1968: 'I want to thank you for the records. They are very good. I wish you could send me 6 of the dance band one C.O.D. I'll pay everything.'

Little did either of us realise that his fame would grow so exponentially over the next two decades that he would become one of the most recorded of all the 'old style' musicians, with hundreds of CDs to his credit*. For all that, this CD features some of the most intriguing and engaging examples of Louis Nelson's work.
* Sounds of New Orleans No 8: A Discography of Louis Nelson, 2001, compiled by Raymond Lee, produced and published by Gerard Bielderman, Leie 18, 8032 ZG Zwolle, Netherlands.
E-mail gerardbielderman@freeler.nl